One of the very first decisions you have to make when deploying Enterprise Reporter is what SQL server you will use to host the Enterprise Reporter database. This decision is made either duing the installation process, or by your SQL dba, who will create the database for you and provide you with its name and location.
You may find it helpful to estimate the size of the database before selecting the SQL Server you want to use. We have provided a tool to do just that. By entering your best guess for each of the elements, setting your change history expectations using the Advanced link for each element, and then projecting into the future, you can see roughly the size of database you can expect, and choose an appropriate SQL Server. Of course size is not the only factor - see this article about locating your SQL Server for more information.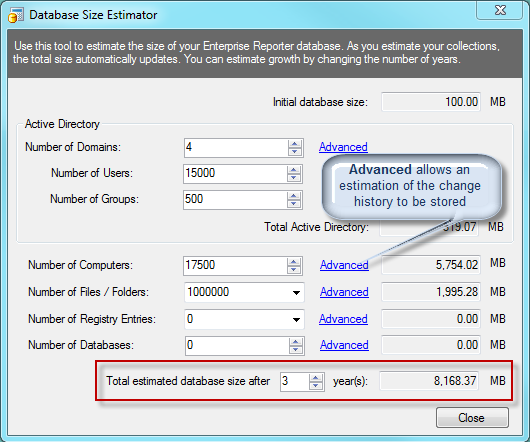 To launch the tool, in your download package locate the Database Estimator folder. Launch DatabaseSizeEstimator.exe, and begin estimating. As always, feel free to ask any questions you have!