During the webcast there were a number of questions around how Quest supports backup and restore. It appears it didn't come across very clean in the short period of time we had for the recovery manager demo.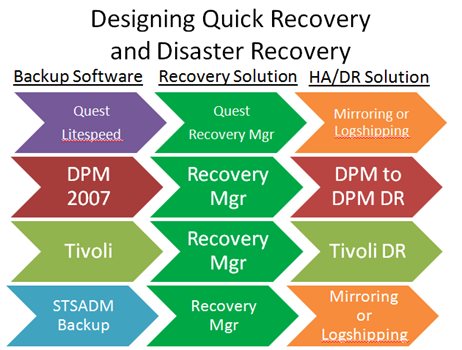 As you can see by the illustration above the Recovery Manager is quite agnostic to the backup solution vendor. The high availability and disaster recovery solution as well is not dependent on either of the two, but quite often as in the case with DPM and Tivoli that they have their own answers.
Essentially the feedback we've gotten from customers is that they like the ability to be able to leverage their existing backup solution and plug the recovery manager in. This allows them to quickly recover the data from various repositories… database backups, stsadm SharePoint farm backups, Tivoli Tape storage, litespeed compressed formats, etc…
I think the part that may have been confusing in the session was around what does Quest do for backup? The customer was expecting a SharePoint named solution, and was getting SQL Litespeed. I hope this diagram helps eliminate the confusion.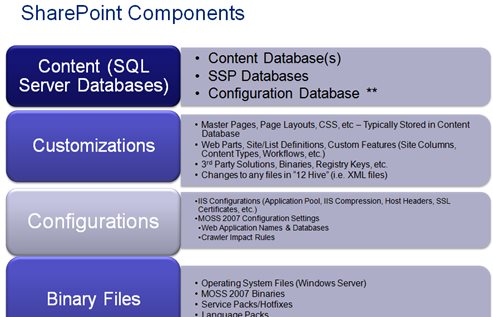 Most decks you see on backup will put this into 1 or 2 buckets, on "what to backup." With my experience I find it's stretching if you can even do this in 3 or 4 buckets. Why is it so complex to backup SharePoint? Because of all this goo. Even backing up SharePoint with SharePoint, you only get the top bucket. How crazy is that? That's why it's so important to make sure you aren't just backing up the database. Here's some more detail when you start to drill in…
SQL databases – Easy, just backup your databases with your favorite tool. Taking too long or taking too much storage? That's when DPM 2007 or SQL Litespeed might be deployed.
Customizations – This can be anywhere, but almost always these are on the file system, so a traditional NT Backup or file system backup will get it. I highly recommend keeping a copy of ANY package or file deployed to SharePoint on a separate "release" folder that is backed up for quick restore to a clean or existing box.
Configurations – What happens in central admin, SSP Admin, or site collection admin UI is stored in a database. If you ever can't restore the configuration database (there are a TON of reasons why not to), then you're going to need to reconfigure this. Especially the customizations from above plus the IIS web application settings. What happens in IIS is in the IIS metabase but even that may need to be rebuilt.
Binaries – Backup the file system and you're good, but as well as third party products you should keep a copy of any infrastructure updates and hotfixes not just SharePoint ones, but also Windows service packs, hotfixes, drivers, software or hardware related.
A Few Q&A Questions to ensure we nailed this…
Q. If I backup my databases and my drives with SQL and Veritas Backup Exec am I good?
A. You have your data, and the binaries. The customizations and configuration will be a challenge, but it will be with anybody. Now you just need to work on your recovery strategy for how you get the data back and what your high availability strategy will be.
Q. I'm using Commvault for Backup can I use Recovery Manager?
A. Yes, you can. Commvault does have some SharePoint UI to make it easier to backup, but you may find the Quest Recovery Manager for SharePoint easier to use.
Q. I'm using Tivoli to backup SharePoint. What will I gain from Recovery Manager?
A. You will find it is a lot quicker, easier, and will require less infrastucture to recover items, lists, sites, and site collections.
Q. I'm debating between DPM and just using SQL backups and Recovery Manager to save money and infrastructure. Is this a viable option?
A. Sure. Don't forget backing up the drives, customizations, and configuration in the IIS metabase and so on, but yes that will give you a cheaper backup and most likely won't require the stand by farm, which you could then use for Disaster Recovery to setup log shipping or mirroring.
While this was posted to simplify the topic of SharePoint Backup and tools, it still remains a painful topic and the most likely tool people will purchase after buying and deploying SharePoint.
Here's a summary of the tools and their usefulness…
Quest SQL Litespeed – Compressed backups, waaay faster and less storage than traditional SQL 2000 or SQL 2005 or SharePoint Backup with STSAdm.
Quest Recovery Manager for SharePoint – Simple UI for Quick and Easy recovery of items, files, lists, sites, site collections straight from a database or storage device such as Tivoli, Quest Litespeed, Data Protection Manager 2007, traditional SQL backups, or Litespeed backups.
Both Solutions Works with Logshipping, or Mirroring which might be deployed as SQL high availability solutions for quick disaster recovery.