OLR is performed in a two-step process, which is depicted in the illustration:
Step 1: Perform a File-Level Restore (FLR) to recover the Exchange DB from the backup repository to a read/write location. This is performed using vRanger Pro.
Step 2: Mount, search and select objects from the Exchange DB and restore them. This is performed using RME.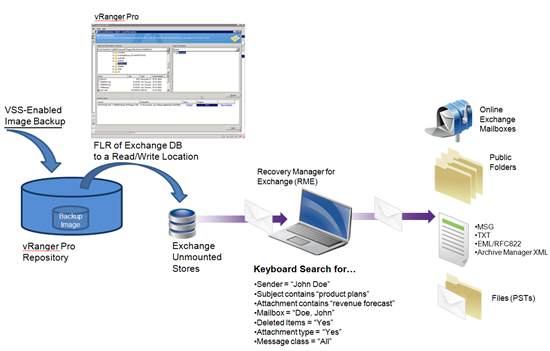 The Exchange backup must be performed using the Vizioncore VSS driver. There is no limitation nor change in the backup process itself, which is performed normally.
The RME search and discovery capabilities are comprehensive, and have not been limited in any way from the Quest standard product. These capabilities offer fast, easy search to find the exact email objects that are required from the Exchange database. These capabilities are of extra value to organizations requiring Discovery capabilities to more quickly produce email in response to court requirements, such as those organizations concerned with the US Federal Rules of Civil Procecure (FRCP) guidelines.
For more information on RME see the datasheet at the end of this post.
Performance Figures for Exchange FLR with vRanger Pro
The length of time that it takes to perform FLR of the Exchange DB will depend on its size and the network traffic in the environment. Testing performed by Vizioncore engineers using vRanger Pro 4.5 reveals an average throughput of a bit less than 1GB/min. However, the performance was highly variable depending on network traffic. In short, this is a classic "your mileage will vary" situation.
I provide the actual performance figures from the Vizioncore test team below, to offer guidance for what can be expected in terms of FLR performance on the Exchange DB in a busy network environment. FLR of large files is also included in the data, as a comparison. But, again, this is highly variable and will depend on the actual environment.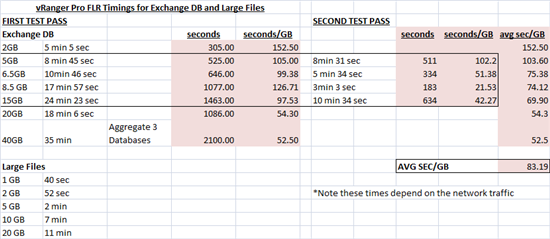 About RME 4.8
Vizioncore is proud to announce the General Availability of Recovery Manager for Exchange (RME) 4.8. This new release provides these firsts to Vizioncore customers:
Object-Level Restore (OLR) of Microsoft Exchange email messages, folders, and other objects from vRanger Pro 4.5 backup images
Availability of Quest RME from Vizioncore channel partners as part of a suite of Vizioncore data protection capabilities
RME is a separate purchase from vRanger Pro 4.5, and adds on to the product's capabilities. The primary benefit of RME to vRanger Pro customers is to enable a more flexible level of recovery for Exchange email objects, in which individual objects can be restored directly into production environments. Previously, the entire VM or Exchange DB had to be replaced in production to restore a single message or object.
For a free trial download of RME, visit the Vizioncore downloads page.