The Vizioncore team is in round 2 of beta testing with vRanger Pro 4.5 DPP. As we near the finish line, the feedback from testers continues to validate the benefits of the product's key new features. I'm sharing some of the latest information in this blog post -- some of which was just received as recently as this morning.
When asked about the effect of using ABM for their backups, beta testers responded: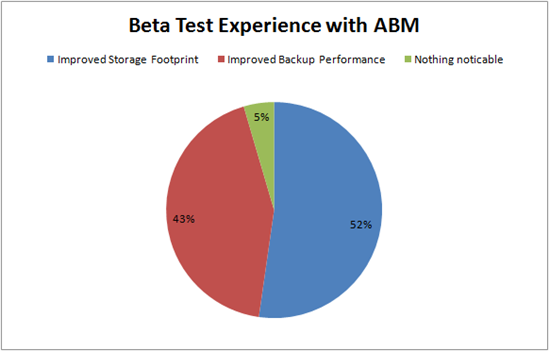 Fully 95% saw an improvement in either backup time or storage footprint or both
42% reported both backup performance AND storage footprint reduction
The results that ABM will deliver depend a great deal on the use patterns of the applications and end-users in a particular environment. These results can vary, as well, within a particular environment. However, this feedback demonstrates that nearly all organizations can expect to receive significant benefits in their backup by using ABM.
When asked to name their favorite new capability in 4.5, beta testers told us this: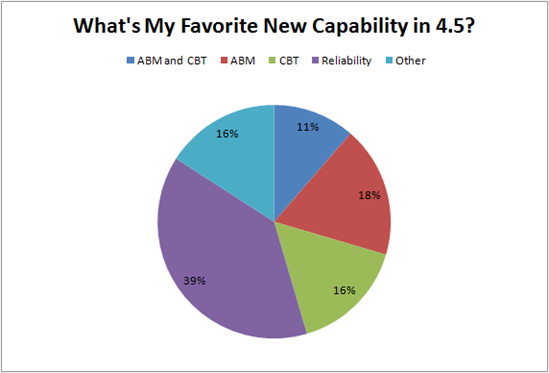 In total, 45% named either ABM or CBT, or the combination of ABM and CBT, as being their favorite new capability for speeding all types of backup
39% named reliability, reporting that "everything completes successfully"
16% told us they liked something else in 4.5, including: Custom Backup Groups -- "everyone hated having to exclude VMs from the backup job"; FLR fixes; 2 disk support to CIFS
Some additional comments volunteered by our participants:
"It is faster and the backup files are smaller. What's not to like?"
"Very slick interface and user friendly, easy to set up right out of the box."
"I have tested it intensely and looks very good. I only knew the older version of esx-ranger."
"vRanger is easy to install, configure and use. It is stable and works very efficient. It is more stable than version 4.2."
"The beta seemed to be a more reliable fully functional gui interface that offered more performance and stability for backups. I was familiar with the existing versions and am able to navigate quite easily through the interface. Encrypted backups are a very nice feature for enhanced security and a functioning FLR is priceless."
"Quicker more reliable backups, I only use backup exec now to spin off the backups to tape!"
"So far with all of our testing this product has been very stable and we are ready to put it into production once released."
"vRanger continues to offer an excellent VMware backup solution that is a major part of our recovery plan. The beta promises to be yet another improvement to this product."
"My experience with vRanger Pro 4.5 DPP beta has been one of the most stable beta test applications I have ever tested and has lived up to or exceeded all my expectations in performance improvements."
"It's Magic! I needed to restore to believe it's true."