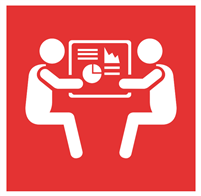 The digital revolution has changed how people shop. Consumers have a world of options at their fingertips and they know more about their products than ever. To compete, companies have had to transform sales and marketing models to support these new requirements. The task required analyzing corporate databases along with unstructured information from sources such as clickstreams and social media to gain insight into purchasing habits.
We know because we've gone through this process ourselves. And we learned a lot along the way. So what empowered us to gain unprecedented insights to transform our business? The very solutions we were selling in the first place: our big data analytics and business intelligence toolsets. Because we wouldn't expect you to download our solutions if they weren't good enough for us to use ourselves. And let me tell you, we do ― and they work!
Tapping into the potential of big data
We established an IT task force and a flexible governance model to rapidly respond to employees' evolving BI requirements and deliver rapid ROI. One of the task force's first projects was a new Dell BI solution called the Marketing Analytics Workbench. Its initial application was focused on a select set of use cases around online and offline commercial customer engagements.
Implementing the software
Our engineers created a datamart, using Apache Hadoop for storing unstructured data, Teradata Aster for integration and exploration of customer data, and our own Toad software suite — specifically Toad Data Point and Toad Intelligence Central — for data transformation and automation needs.
The engineers found that the Toad software suite made data manipulation, sifting and preparation easy, which allowed them to create an accurate picture of customers' shopping behavior. The tools also offered suggestions for improving service, as well as ROI metrics for website marketing, phone calls and site visits.
Within months, employees were using the initial Marketing Analytics Workbench. The task force plans to expand the solution's capabilities to analyze data from more sources, provide additional visualizations and measure the returns of other channel activities such as tweets, texts, email messages and social media posts.
It all paid off – big time!
In the initial phase of the Marketing Analytics Workbench, we saved approximately $2.5 million in vendor outsourcing costs. We also quickly brought in $5.3 million in incremental revenue by initiating more personalized marketing programs and uncovering new opportunities ― and we're only just getting started. Plus, employees receive data-based suggestions for when and how to contact a customer, as well as the URLs of specific pages they should read to learn more about the technologies a customer is researching.
In short, we used our own solutions and saw a significant revenue uptick. Who wouldn't want to drop those stats on the c-suite desk? We can't wait to see what the future holds ― for both our organization and yours! ― as we continue to enhance this powerful workbench.
Next steps
Get the full scoop on how we made millions in just the initial phase. Read the Full "Quest" Case Study!