Hello all,
Last time I described how to define list of available countries - https://www.quest.com/community/.
Unfortunately this approvach can help you to reduce the country list and it can't to add new countries to the country list.
And now, I'll describe how to override this limitation.
But.... Please read this TWICE. The solution described in this article is based on some undocumented features of the Web Interface. Use this article at your own risk as we can't provide official support for ActiveRoles Server instances that employ solutions based on undocumented features.
You know, the country list is hard-coded in ActiveRoles Server. Moreover, the list is hard-coded twice - in ActiveRoles Server MMC, somewhere deep in its binaries, and in ActiveRoles Server Web Interface, and an XML file. You can't change the first list, but you can change the second one.
Where is it located? Please find it there - <WI installation folder>\<version>\Public\xml\countries.xml. In my ARS 6.8 installation, it's located there - C:\Program Files\Quest Software\Quest One ActiveRoles\Web Interface 6.8\6.8.0\Public\xml\countries.xml.
This XML file has very simple format:
countries.xml
<Countries>
. . .
<Country Code="<numeric code>" Abbreviation="<two letter code>" Name="<name>" />
. . .
</Countries>
Note: You may find that the root node in your lab is misspelled as "Countrues". This is a minor defect, please leave it unchanged.
When I was younger, I used to play a fairy game "The legend of Kyrandia" - https://en.wikipedia.org/wiki/The_Legend_of_Kyrandia. Well, let's add Kyrandia to that XML list of countries in ARS. Name? Kyrandia. Numeric code? Say, 555. I just selected a unused numeric code. Two-letter code? Say, "KD". So, the adding XML info looks like:
Kyrandia
<Country Code="555" Abbreviation="KD" Name="Kyrandia" />
Before any changes in the XML file, we have to make a back-up. I just copied the file to countries.xml.bak, then added the info from the table above to countries.xml.
Next, we have to restart IIS to make ActiveRoles Web Interface consider the changes. I run iisreset.exe from the command line prompt.
Great, it works in Web Interface: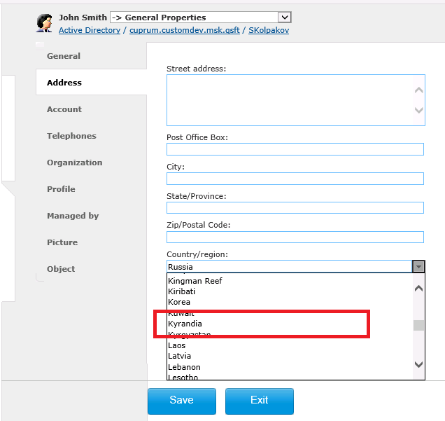 Also, in Change History: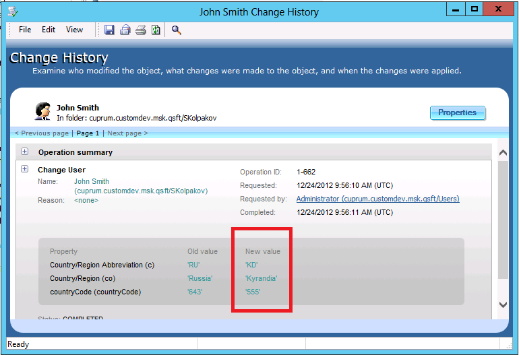 Unfortunately, it doesn't work in ActiveRoles Server MMC. It displays empty values instead of "Kyrandia".
Well, if you want to revert the countries changes, just copy the .bak file to countries.xml and restart the IIS.