Having the ability to assess Active Directory (AD) Health quickly is critical to IT professionals. There are a number of command line tools that can be used to check portions of AD Health, such as NSLookup, DCDiag, NetDiag, and Repadmin but they are limited in scope. Active Administrator for Active Directory Health has a centralized view of real-time AD Health along with performance and diagnostics tools such as Troubleshooter and Spotlight. This makes it simple for Administrators to view the status of Active Directory and troubleshoot issues as they arise.
Below is a look at the product and some of the features. Let's start with a glimpse of the Active Administrator for Active Directory Health landing page. It presents summary information regarding forests, domains, sites, domain controllers and alerts. It also contains active tiles which displays each domain being monitored.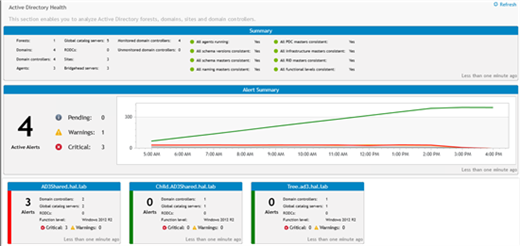 The Directory Analyzer tree displays forests, domains, sites and domain controllers. When you select one of these objects, tabs appear with relevant information about the object. For instance, when selecting a domain controller you can view important information about it by selecting one of the tabs: Summary, Services, Server, Active Directory, Current Alerts, Applications and Updates.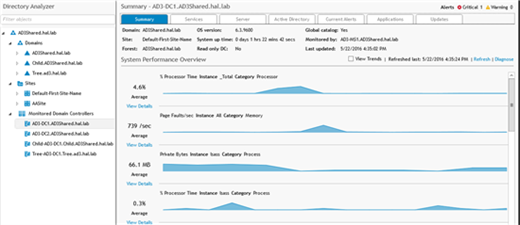 To diagnose Active Directory problems, you can use the Spotlight on Active Directory Diagnostic Console. Within the Analyzer page, select a domain controller and click the "Diagnose" option on the menu bar.

This will launch the Spotlight console. It provides a real-time depiction of the dataflow in your forest. This allows you to detect, diagnose, and resolve Active Directory problems.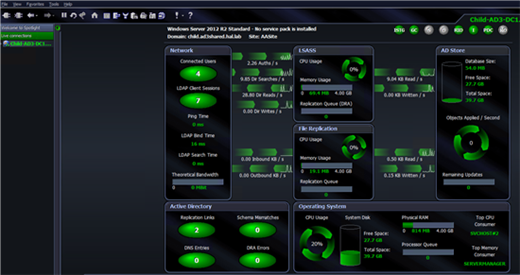 Active Administrator for Active Directory Health enables administrators to proactively monitor and troubleshoot AD Health. When AD performance drops, alert notifications are sent immediately. This is one tool that administrators should never be without! For a more detailed look at Active Administrator for Active Directory Health, review solution article: "How to use the Active Directory Health feature".