Hi there,
Incremental migration is one of the most valuabe features of Migration Suite for SharePoint, especially for larger migrations that take days to complete while business users keep working with their data in SharePoint. You can easily initiate migration of new and updated site content in the Project Mode by selecting the migration job and clicking Run Incremental on the ribbon. The application will pick up every item and document that changed since the previous run and copy them over to target: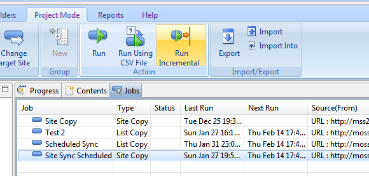 What if you want the tool to perform recurring synchronizations automatically? In this post, I'm going to walk you through the steps to configure automatic scheduled incremental migrations. It's not as easy as clicking a single button in the UI, but not much harder either.
Notes:
If you need to perform incremental synchronization for an entire site, you will need to create the target site (Blank Site) prior to following the steps below
Switch to Project Mode tab in the application
Start the job wizard
Right-click on the source site, select Copy.
Right-click on the blank target site and select Paste
Right-click on the source list/library and select Copy
You can select multiple lists using CTRL or SHIFT
Right-click on the target site and select Paste
Specify a name for the migration job

Specify a recurring schedule for the job using the built-in Scheduling Wizard (e.g. every night)
Click Next
Specify copy settings
Expand Advanced Options and check Apply Filter
Press the Filter button
In the Filter Window, select Greater Than for Modified, check the checkbox next to <Empty Date> and set it to a date way back in the past (e.g. Jan 1, 1970).
Also check the Use Last Execution Date option
Click Filter
Click Finish to create the job
After completing these steps you can either start the initial migration manually using the Run command or leave it to the scheduler to start the job automatically. The first run of the task will copy all content from source, while consequent runs will only copy deltas (new and modified items and documents).