Intended Audience: Stat Functional Users, Stat Technical Users, and Administrators of Stat ACM
Intended Subject: Quick Guide to Setting up & Using "Issue Tracking" within Stat
Intended Reaction: Happy Stat Users
Keywords: Stat Issue Tracking, Stat Configuration, Business Processing
Hello fellow Stat Users and Administrators,
When creating a new CSR, many people see the "Issues" tab on their CSRs. They ignore it....
Do You Use the Issues Tab?
According to the latest poll on the community 63% of the people that voted tell us they Do Not use the Issues tab.
For Shame! (Ok, maybe it's not a big deal… But it does add some needed flare to this blog post…)
What Is It?
The Issues Tab is the best place to create and track issues found with any specific area of concern you may have. It's a highly flexible and configurable tab that has many uses.
For Example: You can Track & Document:
- Testing Issues and Resolutions
- Developer Issues and Resolutions
- System's Configuration Issues and Resolutions
- Functional Issues and Resolutions
- Administration/Patching Issues and Resolutions.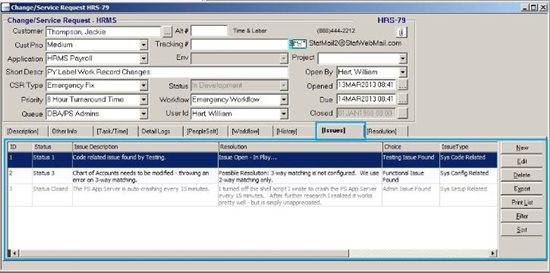 The Issues tab is the one place where you can configure not only the field's label, but also the field's values that are displayed to the user!
Once created, an issue can be assigned to anyone that needs to resolve the issue. Issues are essentially 'standalone' items and do not impact the movement of Workflow processing.
If an issue is something that you want to affect the Workflow processing, than you will want to make it a Transfer Rule, and not an issue, to be impactful.
Here Are Some Examples:
Below are some examples of different types of Issues you can create in your environment:
You control all aspects of the Issue as it's created and resolved:
Use your imagination to ensure the Issues Tab is everything it can be.
Ok, I'm in! I want to have Issues!
Configuring the Issues Tab is pretty simple. From the Stat main toolbar: Maintenance > General > Issue Tracking
Creating the Issues is one of the simplest tasks you can do within Stat. It's also one of the most 'open' settings you can work with in the Stat application.
Don't forget about the Status values! ( Step 3 above ) The Status values, much like a CSR status tracks the progress of an issue from opening to closing and any steps in between you need to track.
Additional Tips:
If after reading this blog on the "Issues Tab" your heart rate never got above 60, then I have a recommendation for you…
Turn off and hide the Issues Tab. Have your Stat Administrator go into the following menu and un-check the "Issues Tab" checkbox to turn it off and keep it from showing at all.
The menu path from the Stat main toolbar is: Maintenance > General > Service Domains. Scroll to the right to find the "Issues Tab" checkbox.
Thank you for taking the time to read this blog. I hope you found it informative.
Respectfully,
William R. Hart
Solutions Architect
Dell | Quest Group, Pre-Sales