Dell's Migrator for Notes to Exchange (MNE) recently released advanced features that resolve some of the most common challenges and concerns when migrating from Domino & Notes to the Microsoft technology stack.
Included in these exciting updates are two features that will dramatically simplify the migration process for those running the migration and those being migrated: 1) Smart Collections and 2) ActiveMail Migration.
Smart Collections
Most organization that have completed email migrations in the past will tell you that determining who to migrate when and with whom is probably the biggest challenge during these projects. Even with a coexistence environment configured, migrating users that work together and share data at the same time will dramatically reduce collaboration issues and disruption to the organization. Until now, the only data elements available for grouping users into migration groups were department, server, location and other information available in the Domino Directory. Unfortunately, these data elements do not always provide an accurate depiction of working relationships and, as a result, the collections generated are not optimized to minimize organizational impact.
The patent-pending, Smart Collection technology available in MNE 4.11 eliminates these concerns by intelligently building migration groups using the Access Control List (ACL) and delegation information available within the Notes environment. ACLs provide the best indication of working relationships and data-sharing throughout the organization. Therefore, they provide the ideal mechanism for generating collections for the migration.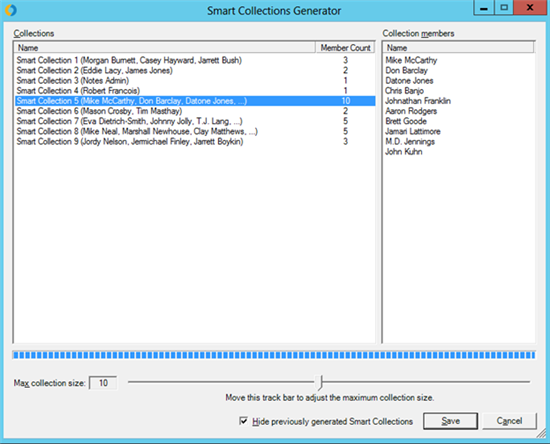 Migrator for Notes to Exchange generates Smart Collections based on the relationship information within the Notes environment. You have an opportunity to adjust the maximum collection size using a track bar to create the ideal migration groups for the available migration window. MNE will automatically adjust the Smart Collections based on these inputs and they can be saved for future migration operations. After saving the Smart Collections, you also have an opportunity to fine tune the collections if desired before the migration.
This patent-pending technology eliminates one of the biggest concerns surrounding email migration and will dramatically improve migration results by reducing organization impact throughout the transition.
ActiveMail Migration
Notes environments contain a significant amount of proprietary content that is commonly critical to organizational workflow and operations. This formatting and functionality results not only from user-to-user interaction using unique Notes features, but also from Notes applications and workflows leveraging the email platform to carry out the daily operations of the organization. At Dell, we call this proprietary content ActiveMail and it includes things like tabbed-tables, stored forms, hotspots, encrypted content and other items that require a Notes client to view them.
For years, Dell's Coexistence Manager for Notes has translated ActiveMail content sent from Notes to Exchange and Office 365 into an NSF attachment, which allows users to simply double-click the content to view it within their Notes client. However, until now, there were no options for preserving this content during a migration to Exchange or Office 365.
MNE 4.11 now provides a way to migrate and preserve ActiveMail content as part of the migration process. Simple configuration options all you to decide the types of ActiveMail content to convert and you can customize the template message used during the process.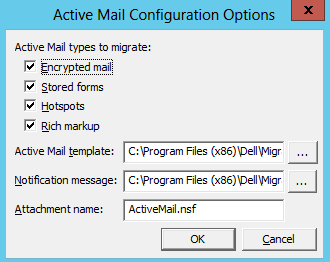 So now, whether the Notes mailboxes contain proprietary formatting, encrypted content, or unique Notes features (like hotspots)...

MNE provides an easy way to preserve this content and make it readily available for users after the migration.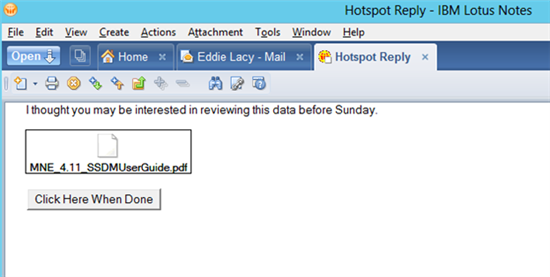 These great new features further expand the already world-class technology offered in Migrator for Notes to Exchange to streamline your transition from Notes to Exchange or Office 365.
For more details and evaluation opportunities, check out the Migrator for Notes to Exchange Product Page.
Happy Migrating!