Have you decided to migrate from Novell GroupWise to Microsoft Exchange 2007/2010/Online? Are you in the middle of a merger/acquisition with an organization using Exchange? Either scenario can be very intimidating to a GroupWise administrator. Afterall, migrating from one messaging platform to another can be a long process, rolled out in phases, meaning that for a time, you'll have part of your organization on one platform, and part on another.
With that in mind, we recently introduced a new product that will be of interest to anyone in the midst of moving from GroupWise to Exchange (on-premises or hosted) or Microsoft Office 365. Quest Coexistence Manager for GroupWise is the first product of its kind that provides direct coexistence between GroupWise and Exchange. This new product also mitigates the risk of disrupted messaging and collaboration between users by providing free/busy lookups, ensuring accurate calendar scheduling, and synchronizing directories between platforms.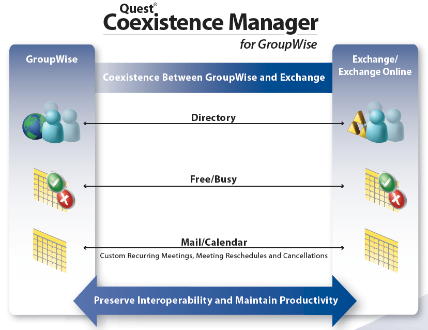 Specifically, Quest Coexistence Manager for GroupWise includes:
Free/Busy Connector – This enables free/busy queries between GroupWise and Exchange, letting you view availability and schedule meetings with coworkers no matter where their mailbox resides.
Directory Connector - See complete directories in both GroupWise and Exchange, allowing you to view a common list of users, groups and resources.
Calendar Guard – Accurately schedule calendar appointments, including custom recurring meetings, reschedules and cancellations throughout the coexistence period, no matter if you're using GroupWise or Exchange.
You can learn more about Quest Coexistence Manager for GroupWise by visiting the product page.Interested in another perspective? See what Frank Ohlhorst of Information Week had to say in a recent Brainyardblog post.