April 2016 is Inventors Month. Per DaysOfTheYear.com; "Inventor's Month is dedicated to recognizing the creativity of inventors everywhere, and encouraging everybody to get inventive."
This post is in a series of interviews highlighting some of the talented individuals we are privileged enough to work with here at Quest.
Derek Jury
Senior Software Engineer

Tell us a little about yourself:
I'm a Senior Software Engineer at Quest working in the System & Information Management (SIM) unit.
When did you begin your career in technology?
I started my career in technology 15 years ago. I landed a really interesting job, right out of school, in the Defense, Security & Aerospace industry. My first project was to develop software that took sonar data and displayed it in real time so that an operator could manually spot anomalies on the ocean floor which could potentially be mines.
After working on many other Defense, Security & Aerospace projects I moved on to system information management. The first product I worked on in this space was one that made IT administrators and compliance officers lives a lot easier by providing a set of features that allowed the end users to determine if their systems were in compliance with the law. Since starting SIM, I've worked on a number of products, the latest being Change Auditor.
Currently, Change Auditor is shifting focus to allow hybrid auditing for the enterprise which is providing a lot of new and interesting work. I have had the opportunity to take a leadership role in the work we have done around planning and designing a hybrid solution.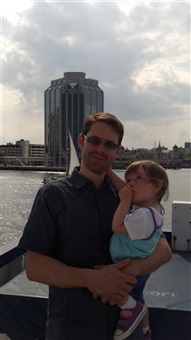 What was the path to your first invention/patent?
When Mitch Brisebois came to our Halifax office, in 2015, to encourage our office to file patents I saw this as an opportunity to try my hand at inventing and learning lots of new things. My first idea took a little over a month to gel and it eventually ended up with a recognize status. I built upon the lessons learned and filed many more successful patent ideas.
Has/Have your patent(s) been introduced into a product or product line?
At this point my patent ideas have been submitted to the patent office for review. Although I am waiting for the patent office seal of approval, I still look for opportunities to put these ideas into development.
Have other inventors/technologists inspired you? Who? How?
Since I've started inventing I've become more interested in some of the really successful people in history who have had ideas that altered the world. Nikola Tesla, the true father of electricity certainly inspires me. He was a brilliant man who contributed to the world as we know it by figuring out how to transmit electricity over long distances and hundreds of other inventions.
What interests outside of work do you have?
I swim regularly. They say swimming is one of the best ways to get your exercise and I love it. I also love my wife and five-year-old daughter who help to keep my life balanced and happy.
Enjoy the interview? Please leave a note for Derek - I'm sure he'd love to hear from you.
To find out more about the products Derek helps create & to gain more time to do the things you love using solutions from Quest: #ExpectMore from IT management software