Hitting the benchmarks for Meaningful Use can be challenging. When your electronic health records (EHR) are hosted in a virtual desktop infrastructure (VDI) or Remote Desktop environment accessing patient records is seamless. But the records need to be continually updated with new scans of insurance cards and patient records, patient photos, and digital x-rays, etc.
How do you make sure that all of your scanners, cameras, and imaging devices can be used with your EHR?
And equally important, if these devices are used throughout your network, how do you control where the saved images are stored? In VDI and Remote Desktops, native support for scanners and imaging devices is spotty at best. When users open up their EHR application to drive a scan, they are likely met with the error message "NO SCANNER FOUND" What then? Call Help Desk? Save the scanned image on the local desktop, then FTP the image to the server? Email the image? How HIPAA compliant is that? And how many extra steps does this add? For each locally saved scanned image or photo, a new point of compliance risk is introduced.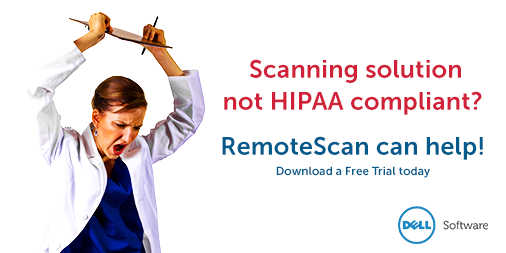 Dell RemoteScan solves this by enabling users to scan documents or take pictures directly via the remotely hosted EHR application over the secure VDI/RDSH channel.
The scanning experience follows the flow that users expect:
When the user logs into the virtual session and opens the EHR scanning utility, RemoteScan is detected as a scanner choice.

The user can select from any predefined scanning templates that control DPI, color depth, and image dimensions – reducing the risk of 24MB images being sent.

The user drives the scan, and the image is stored immediately on the server, never on the workstation. RemoteScan inherits whatever encryption is set for the virtual channels.

When the image is saved on the server, it is saved in whatever file format is available in the scanning application, and whatever indexing, OCR, and barcode scanning that application does can then occur.

Boom – Done! Time involved? Mere seconds. Compliance risk? None. For more information, visit RemoteScan for EMR scanning software.