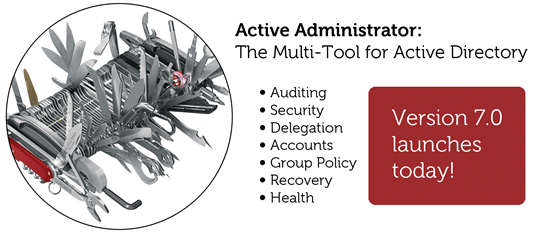 Active Directory 7.0 launches today, with enhancements to make AD management faster, easier!
We're excited to announce the launch of Active Administrator version 7.0, the most powerful multi-tool for Active Directory management.
In fact, WindowSecurity.com readers voted Active Administrator the best "Network Auditing Solution" in 2013.
Why? Simple. It's easy to use and streamlines your workload to improve security, auditing, GPO testing/creation, account management and health/availability--all from a single pane of glass.
Here are some of the great new features in version 7.0:

Quick Tasks - Quickly perform six of the most common AD administrator tasks: Initiate a search for an Active Directory object, perform four different operations against user accounts (enable/disable, reset password, unlock, or add/remove from a group), or reset a computer account.
Active Tiles - Boost productivity with real-time, at-a-glance tiles that present status rollups of each sub-section of AD management, such as security, delegation, performance, Group Policy, etc.
Account expiration - Configure daily email notifications of pending account expirations, as well as preview all accounts in the selected domain(s) that will expire by a user-defined threshold.
AD search - Perform a universal search that easily and efficiently enables you to locate any user, group, contact, computer, or Organizational Unit in a selected domain.
User logon activity - Track both remote and interactive logons, logoffs, and lock/unlock events.
Dashboard charts - View a dashboard that now includes a count of domain computers, users, and groups of various scopes. The range of charts for audited events and notification alerts is expanded to help you identify trends that might otherwise have gone unnoticed.
Active Template Delegation Wizard - Choose multiple delegation paths in a single path and set delegations to apply automatically, as well as expire automatically, at a set date.
DC Management Module - Select the specific domain controller through which all operations will be performed, manage its services, and monitor its status, performance metrics, and event logs to identify potential issues or trends before they become critical. Also, through the Domain Controller tool bar, you can easily add or remove domain controllers, switch to another domain controller, connect through remote desktop, and reboot the domain controller.
Performance enhancements and more!
To learn more, download a free trial or visit https://www.quest.com/products/active-administrator/!