Yes.....vFoglight Storage arrives tomorrow and I am sitting in my hotel room in San Francisco typing this blog entry and getting ready for VMworld. It's been a long time in the making but after 4 phases of beta and thousands of man/woman hours, it's finally here. You can get your hands on a free 30 day trial beginning 8/30 at at the following page: https://support.quest.com/
For those of you who don't know me, my name is Brad Adamske and I am the Sr. Product Manager for vFoglight Storage. I have been fortunate to work with a great team of people that developed this product. Below is a picture of a banner we had made for the dev team back in the early part of the summer ( last names spray painted out to keep the headhunters away :-) You will notice I left my name though as you already have it so I figured what was the point.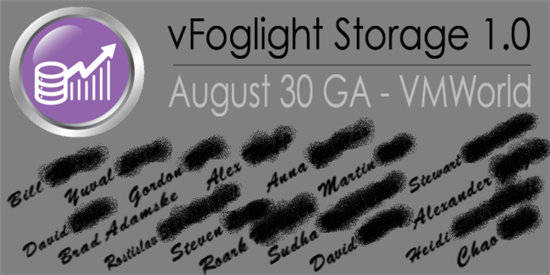 We were all part of the MonoSphere team that Quest picked up back in December of 2008 and vFoglight Storage is the result of our heads down effort to put out a product in the marketplace that allows the virtualization admin to truly see beyond the datastore and clearly understand the configuration and status of the underlying storage and SAN/NAS fabric.
Below is a screenshot I took of the application that I have been running on my laptop now for demo purposes. If you manage a VMware environment and if you understand a bit about array LUNs and filer volumes, this screen should say speak to you.
Give the product a try ( https://support.quest.com/ ) and let us know what you think, we would love to hear from you (send cards and letters to brad.adamske@quest.com) and please also stay tuned for future blog updates.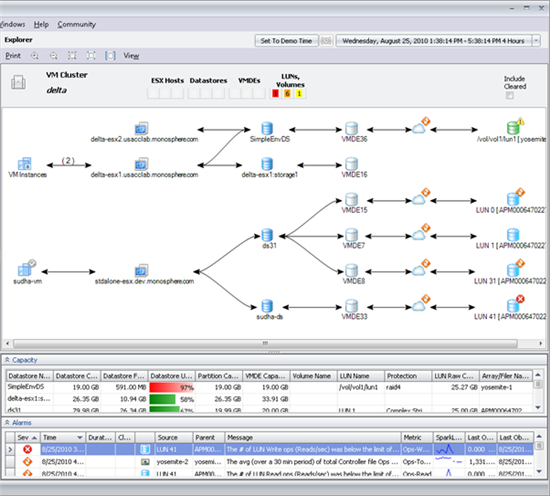 Regards,
Brad-