In my last post, I suggested how great it would be if you could manage your virtual desktop infrastructure (VDI) with the intuition and high-definition vision of an attentive mom. I wrote that moms (or "mums") have an uncanny ability to keep tabs on their fearless charges at multiple levels, as well as organize information, see through false reports and just generally get to the bottom of things quickly. No offense to mom, but you can get these monitoring skills for your virtual environment with Dell Foglight for Citrix XenDesktop and XenApp.
I was reminded of mom's mad skills when my dad called recently:
"Son, did you have your eyes and ears with you when you lived here?" he asked.
I told him that yes, I thought I had.
"Then you'd remember that your mom saved your life about once a week by detecting when something was wrong with you and showing you how to resolve your challenges, no matter how big or small. Everything from a skinned knee to teen love gone wrong – and everything in between," he said.
"You wouldn't have lasted very long if she hadn't been an expert at predicting and diagnosing your little problems before they became big problems and nursing you back to good health. How could you completely forget to mention that in your blog thingee?"
So, since I neglected to mention that maternal talent, and since Foglight diagnoses and resolves problems with Citrix XenApp and XenDesktop, I promised Dad I'd write this follow-up blog…thingee.
Diagnostics and predictive analysis of your virtual environment
Say you've had stomach aches for the last few weeks after eating. You tell your mom, and the first thing she says is, "Quit drinking soda with your meals." You lay off soda and the stomach aches go away the next day.
Or you're out the door to a night game with friends. "Take a jacket," your mom says. "It's going to rain." You don't, it does, and you're in bed for three days with a cold.
"How does she know this stuff?" you ask.
It's that ability to assess a situation, predict potential issues and come up with a remedy. Just like Mom, Foglight for Citrix XenDesktop and XenApp can diagnose issues and return your virtual environment to health. Foglight uses baseline data to identify and detect when a process, service, resource or user activity is not performing as it should.
Foglight monitors user experience, virtual, application, database, middleware and physical levels. Its capabilities are useful in organizations that are unaccustomed to managing virtual desktops, especially large numbers of them. Its diagnostics and performance monitoring enable you to continue your transition from the physical to the virtual, with all the potential efficiency of VDI.
We've combined Foglight for Citrix XenDesktop and XenApp with Foglight for Virtualization and Storage Management to help you find the causes of performance problems and assist you in remediation. You can scroll back to the moment at which a performance issue was first reported and examine the entire environment.
The screenshot below shows the performance of a VMware host – an ESX server – with drill-down to the underlying Citrix layer: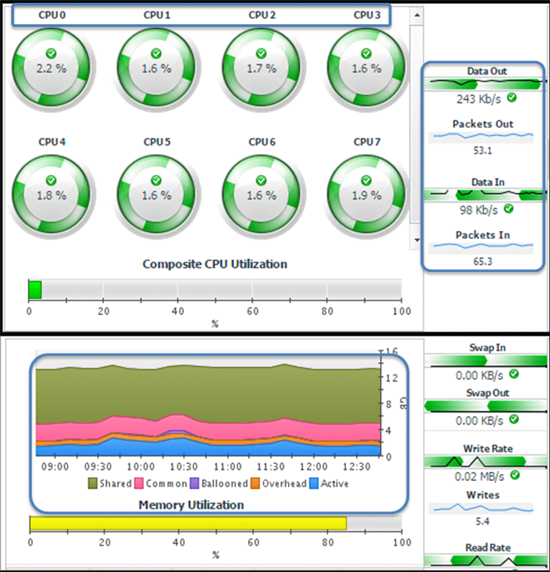 Foglight can also correlate changes, calculate the impact of each change and predict how the events will affect your environment.
If that's not just like Mom, what is?
Dell Foglight for Citrix XenDesktop and XenApp – Lab review
Foglight's diagnostic and predictive features impressed The Enterprise Strategy Group (ESG) when they conducted their lab review in a heterogeneous test environment. They validated the ability of Foglight to monitor and manage a Citrix virtualization and application environment, then wrote a report on how they tested and what they found. They also produced a 5-minute video summarizing their findings.
Ready to conduct your own evaluation of Foglight? Have a look at the report and use it as a guide.