The following is an account from a former customer, that has now joined the training team. It not only shows several key improvements in the appliance from a few releases back, but also how the Dell KACE support team is the best in the world.
Andrew says: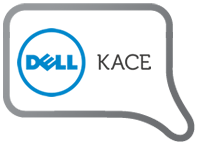 I began my KACE journey with a K2000 Deployment Appliance. Why I purchased this appliance will be a story for another day, but I wanted to start imparting some of the stories of my successes (and failures) as I feel they have some educational value. I hope you agree.
As an educational organization, most of our purchases were done late spring to early summer, with plenty of time to play around with your new toys during the summer months while the teachers and students are enjoying their vacations. In the spring of 2009 my K2000 was purchased. Upon opening the box we were delighted to find a shiny new rackmount server (the first one for the school) with the KACE KBOX logo emblazoned on the front panel, two KACE KBOX hats (of which I still have one), and the largest, yet simplest, quick start guide you ever saw (on the back of the KACE poster that adorned my office for 3 years). After racking, powering on, and configuring the K2000 we were excited to begin JumpStart training soon after. We got all of the prerequisites together, downloaded our training bundle, and eagerly went through the 4 hours of training that we had purchased.
Wow! This thing could do a whole lot more than our previous product (as mentioned above, a story for another day) and we were primed and ready to begin a huge summer that involved imaging over 600 computers. Being a school and having a myriad of system images to work with, we quickly went to the task of creating and capturing both PC and Mac images. We uploaded our System Images and watched as our images used the super-cool deduplication feature, only uploading new data each time we sent up a new image. Sometimes we would have a very small delta, but other System Images were much larger (I am looking at YOU Adobe Master Collection and AutoDesk Suite!) and we would watch that pie chart move more drastically.
The disk utilization is now hovering around 75-80% full towards the end of the image creation process, when I had just one more System Image to capture. This one was a Mac image and if you know anything about MacOS images, you know that they can be pretty large, especially with the entire iLife Suite (with huge amounts of audio and video samples), Final Cut Pro, and Adobe Master Collection installed therein. Top that off with a large amount of instructor files and you have yourself one monster image! So there I went, capturing that Mac image, the whole time a voice in my head was going "Something just ain't right here." And what would you know, something bad did happen. I learned to listen to the voices that day…
The system files captured fine, however, the K2000 was just not happy with me cramming a 70GB System Image of all brand new files into a space about 35GB. Apparently there is thing called a hard drive and this device only has a finite amount of space on it- who knew?! Apparently after I completely filled up the K2000 with files it didn't even have enough space to serve its Web UI. Not a problem, I have this awesome support line I can call! So I called up KACE support and after talking with the support person a few minutes we delved into the problem. After running through some basic troubleshooting, I was sent to the next level of support. I got my call back from another technician and the first question they asked was: "Do you have SSH enabled?". During my JumpStart training we went over SSH Root Login (KACE Support), which was a recommended option. Now in today's training world, this setting has no impact on the JumpStart, but back then enabling this setting would cause your K2000 to reboot and I didn't want to wait. I decided that after my first JumpStart session I would enable SSH so that we could continue the session without interruption. Well I forgot…I wasn't paying close enough attention to the Disk Usage and I had not enabled SSH. In the infamous words of Homer Simpson "D'Oh."
Long story short (and yes I realize this was a long story), I shipped my K2000 back out to KACE where they were able to work their magic to free up some space, enough to get the UI running at least, and they shipped the box back. I paid closer attention to my free space from that day forward and enabled SSH the minute the box was powered up in my environment. I also learned that KACE had my back, whether it was going to be a simple question or a complex blunder that was completely my fault! Oh, and we were able to complete our project before the first day of school- thanks KACE!
As Andrew mentioned, enabling SSH won't reboot the appliance these days so we can enable that at any point. Also, the K2000 now supports Offboard sotrage to a NAS which alleviates that pesky disk space issue- no matter how big your images are. Scripted installations, System Images, and Native Images can all work together to minimize time and effort spent to accomplish exactly what Andrew was after- loads of work in a fixed amount of time. What hasn't changed since Andrew's purchase in 2009 is the commitment to customers that our Support team has. They've seen it all- if you've got a problem you can trust them to help you solve it.