Have you ever wanted to run a trial or deploy enterprise software without putting it on your own hardware on-premises? Have you ever looked at your Microsoft Enterprise Agreement and been surprised you have under-utilized Azure storage and usage available?
In an effort to continue to offer our solutions in new and meaningful ways, we have deployed Unified Communications Command Suite – Analytics (UC – Analytics) on the Azure gallery. This means that organizations who do not wish to deploy the solution on-premises can take advantage of the Azure hosted version of UC – Analytics.
UCCS – Analytics uses effective Lync/SfB reporting, Exchange management tools and Cisco UC management to give IT and users the intelligence to:
Improve adoption and quality of experience
Increase ROI
Accelerate migrations
Enforce communication policies
Meet business objectives
Here are the offering details and how to find UC – Analytics on the Azure Gallery
What is the offering: Azure hosted version of UC - Analytics that can be quickly spun up both to test and to also run in production mode. The product is searchable within the Azure gallery and can be run by anyone with an Azure account.
Where can you get it: Download it from the Microsoft Azure site.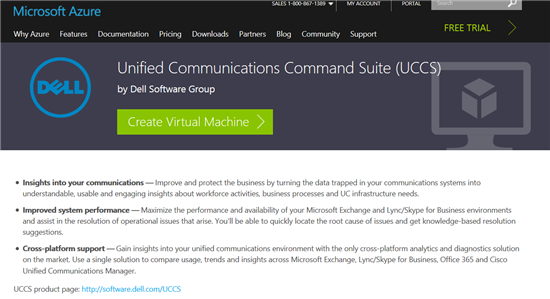 What are the advantages to the customer? Customerscan leverage their Azure investment to be able to both trial and, if required, run UC-Analytics in an Azure context. This is a bring your own license offer so they would have to purchase the license from Quest, but can use the product in the Azure cloud and not have to deploy hardware on premise. This can be run as a trial or as a production install. Many customers are sitting on significant Azure storage and usage that needs to be leveraged.
What are the advantages to Quest? This gives us a more flexible installation path for a certain subset of customers. Being a part of the Azure ecosystem will also give us access to more channel opportunities provided by Microsoft. This DOES not replace skytap for SC demos etc..
Requirements:
Customer has to bring their own Azure credentials and account
Customer has to obtain a license from Quest
Customer will incur Azure costs while using UC-Analytics on Azure while saving on costs associated with hardware deployment and management.