Has Quest saved you time or helped you solve tough IT challenges? If so, then we invite you to enter our Quest in Show video contest.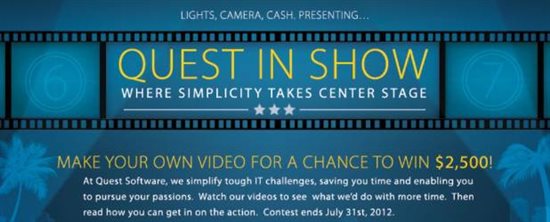 Here's how it works: Create a short video to explain what you can do with the time saved by using Quest products. Have you become a certified scuba diver? Or a chess champion? Or even a world-class artist? Whatever it is, if you make a video about how Quest frees up your time to pursue your passions, you could win $2,500 and a place in our campaign!
Watch our videos to get inspired, then use your creativity and humor (the funnier, the better!) to make your own. Check out our Facebook site for all the details and to "like" our page and contest to share the fun! And if you're on Twitter, you can share the contest with your friends with the following tweet: What would you do with the time @Quest saves? Submit a video & enter to win $2,500. https://www.facebook.com/questsoftware/ #QuestShow
Are you ready for your close up?