Welcome to Microsoft TechEd 2013! I'm here at the Day One Keynote. (Which means I'm not in the 3-4 hour lines to buy a $99 Surface RT!) Anyway, here are a few highlights if you were stuck there.
As nearly 10,000 attendees assemble, we have a live New Orleans Dixieland band playing – great way to warm up the crowd early Monday morning.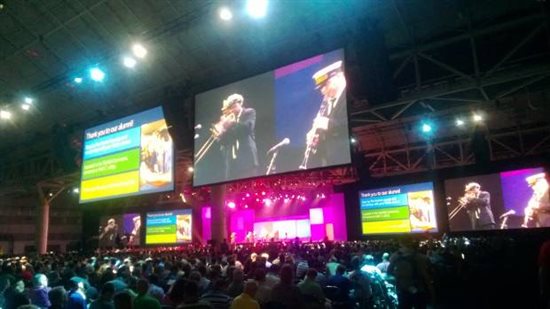 I've focused in on a few topics of interest today. (This is not a comprehensive summation – the keynote should be up on Channel9 later.) We open with a "James Bond" styled video featuring Brad Anderson as an unlikely James Bond type touting the security of the Microsoft public cloud. He retrieves his sunglasses in the video (since security was never at risk) and drives on stage in an Aston Martin (@InTheCloudMSFT)
Not a ton of SharePoint focused stuff here - and I have a longer post over on my personal blog. Here's the shortlist!
1. Windows 8.1 "Blue" Preview bits will be free and released June 26.
Windows 8.1 will Includes resizable Start Screen tiles and consumer features – but also enterprise features to allow control and lockdown of Start Screen. Security is a key driver here, and Iain showed off a number of Windows 8.1 devices from OEMs (like the new XPS 18!)
2. Announcing Windows 2012 R2, Systems Center 2012 R2 and Intune going into preview this month
There was a lot of great stuff here, especially for SharePoint 2013. Molly Brown showed a Windows 2012 R2 feature when she accessed a Contoso SharePoint site from a remote personal tablet. The BYOD features recognized this and prompted her to self-register her device. Her identity was verified by an auto callback to her work cellphone, and she was immediately able to access to a prescribed range of remote services.
3. SQL Server 2014 Coming Soon
A lot of slick user driven self-service BI features here - much of it touch screen friendly and location aware. More DIY app creation coolness.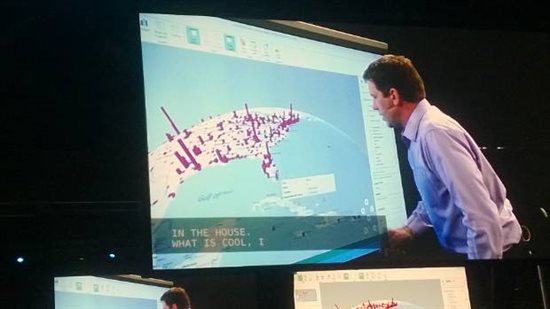 ·
Geoflow addin intelligently maps based on columns it can find and let you zoom and map
Live modeling for geolocated tweet streams on #MSTechEd over time, freeze, drill down to live geoheatmap
Scott Guthrie also introduced Azure features an dprcing to improve cloud readiness for dev and test environments. Deployment and release management are ongoing pain points for many customers.
Many thanks to all of you who came to our book signing last night. If youre here, drop by the Dell booth and say hi! My presentations on SharePoint upgrade and social are Wednesday afternoon. Cant wait!