Hello from the show! VMworld EMEA is rockin' Copenhagen, and the topic top-of-mind for all is how to SCALE virtual systems -- growing from small environments of 10 or fewer VMs, into 100's and 1000's of guests and hosts.
Scott Herold presented on this topic today. As it turns out, there are a couple of critical success factors in the quest to scale, and they are all spelled PERFORMANCE. Maintaining VM performance, depends on better, simpler and more pratical control of VMs along with all of the many infrastructure components on which VMs depend - and the application services which VMs serve.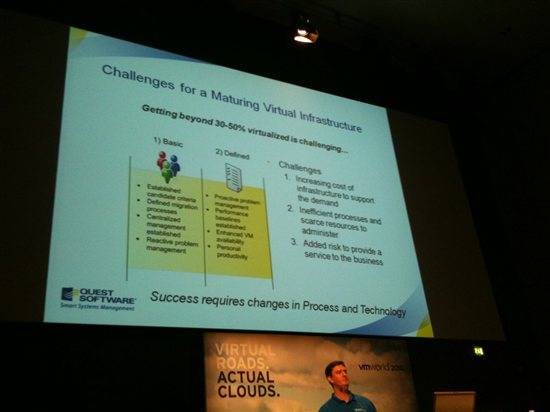 To ensure performance, in short, requires monitoring capabilities provided in the Quest SVG portfolio, including vFoglight and vEcoShell for automation. Efficient data protection is also critical, with vRanger Pro and vReplicator. Scott shared several real-world examples with those in the audience, including his consulting experience with an auto manufacturer -- who experienced broad fluctuations in web server traffic during advertising campaigns. Their use of virtual system provisioning, as powered by Quest Software, was able to recapture more than 2.5 years in Capax savings. Opex savings was also significant.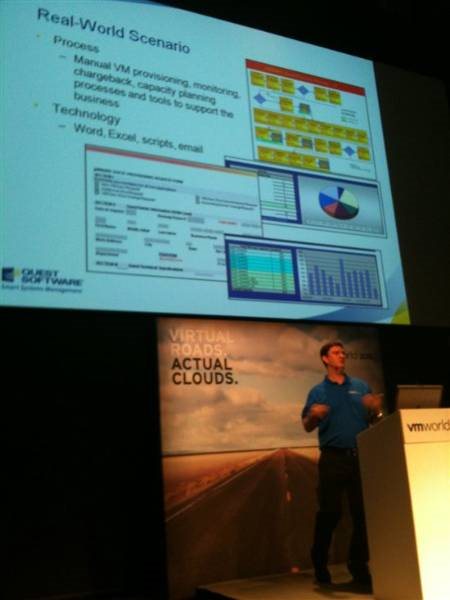 Scott's slides will be available from VMware's VMworld site, Oct 25th.