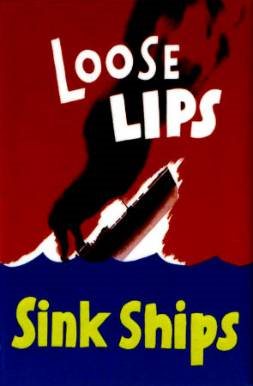 In 2006 my husband, then just the boyfriend, was deployed to Iraq with the United States Navy. He and his shipmates called themselves Sand Sailors and were attached to an Explosive Ordinance Disposal (EOD) unit (the bomb-squad guys). So big time serious stuff. I wasn't on Facebook at the time nor did I tweet (if Twitter even existed then), but my husband reminded me often not to post anything on the internet about where he was or what he was doing in order to ensure his and his shipmates' safety and mine.
During World War II, the United States Navy used to say "Loose lips sink ships," Brits said, in characteristically succinct terms, "Keep mum," in an effort to remind folks to avoid careless talk concerning secure information that might be of use to the enemy.
Nowadays the United States Navy says "Loose tweets sink fleets" with the same intent. In fact, in 2010 they felt so compelled by the onslaught of social media usage by military personnel and their families to issues this public Navy Command Social Media Handbook to ensure sailors and their families struck a balance between telling their service/home front stories and maintaining the integrity and safety of this personal ambassadorship on behalf of the Navy.
In fact, reviewing this handbook brings to mind how we are incorporating the social features of SharePoint 2013 into our organizations:
Are we incorporating it into our SharePoint governance plan too?
How are we safe guarding intellectual property in regards to SharePoint social?
What behaviors and expectations are there for users of SharePoint social?
How do we educate users on acceptable behavior and acceptable use of SharePoint social?
How do we strike a balance between open collaboration and SharePoint security?
These and many other questions are posed and answered in this upcoming webcast by Dell SharePoint CTO, Chris McNulty:
Governance Considerations for Your SharePoint Social Implementations
Date: Wednesday, June 26, 2013 @ 2 p.m. EST
Location: live webcast (online)