Now you could manage Microsoft Lync Server with ActiveRoles Server. And you don't have to write any line of code for it!
All you need to do is to install Lync Add-on, using ActiveRoles Add-on Manager, and to configure it.
Lync Add-on enables ActiveRoles Server to provision and administer Microsoft Lync Server users. It works in conjunction with Quest One Quick Connect to synchronize user account information between ActiveRoles Server and Lync Server, so that Lync Server user management tasks can be performed from the ActiveRole Server Web Interface.
With Lync Add-on, the capabilities of ActiveRoles Server have been extended to support the following administrative tasks:
Create a Lync Server account for a new or existing user managed by ActiveRoles Server, thereby enabling the user for Lync Server.
Update Lync Server user properties with the changes made to the user account in ActiveRoles Server.
Disable a user account for logon to Lync Server, without losing any user settings specific to Lync Server.
Re-enable a user account to log on to Lync Server, restoring all the Lync Server settings on the user account.
Disable a user account for Lync Server, deleting the Lync Server account and removing all the Lync Server related attributes from that user account.
Lync Add-on is a commercial add-on and delivered as a part of Quest One Quick Connect for Lync Server. For more information, click here.
Lync Add-on configuration: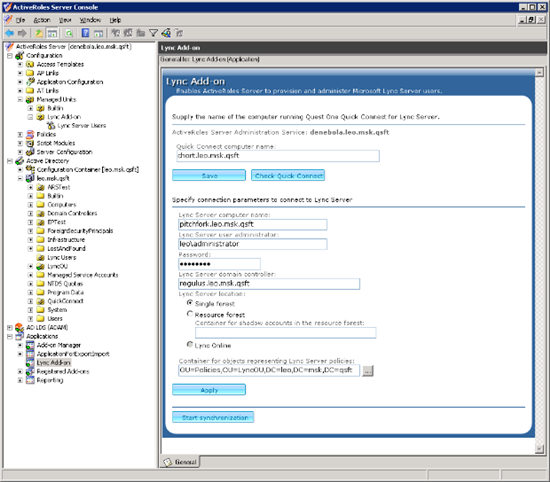 Lync Connection settings: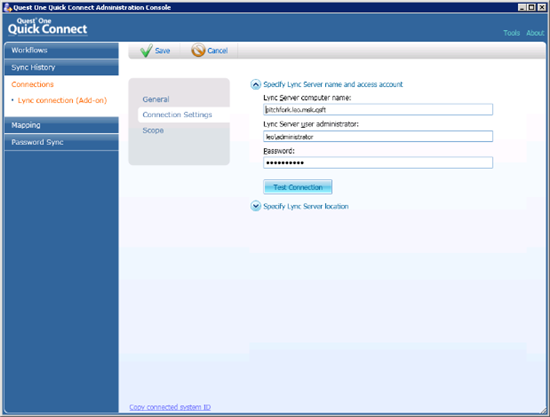 Lync Server User Properties: