As the importance of classifying, retaining, and retrieving documents and communications has increased—especially for litigation and compliance purposes—so too have the demands on archiving solutions. That's why we're so pleased to deliver the latest edition of our EMS Email Archive and eDiscovery solution that now supports Microsoft Lync instant message (IM) archiving. With it, users can easily search and archive millions of Lync IM conversations and content via a single, easy to use search interface. Plus, EMS Email Archive also has a new tagging capability for more effective search and retrieval of archived content.
Instant Message Archiving and eDiscovery
Supporting Lync was a natural evolution of our eDiscovery product, as the use of Lync instant messaging within corporations has continued to increase. And it's not just one-to-one text messages—people are using Lync to transfer documents, too, and they're participating in multi-party conferences. EMS Email Archive supports the archiving, indexing, search, and retrieval of all those conversations and documents.
The screen shot below shows the EMS Email Archive query tool, newly updated to support Lync messages. It can search every email message and attachment that an organization sends and receives over a span of many years (however long the archive has been in place). This includes internal emails and instant messages as well as ones that are communicated outside the organization—even messages that have been deleted by the end user. Privileged reviewers can search different parts of the messages (to/from, subject lines, date, message body, attached files, etc.) and use complex queries to narrow down results.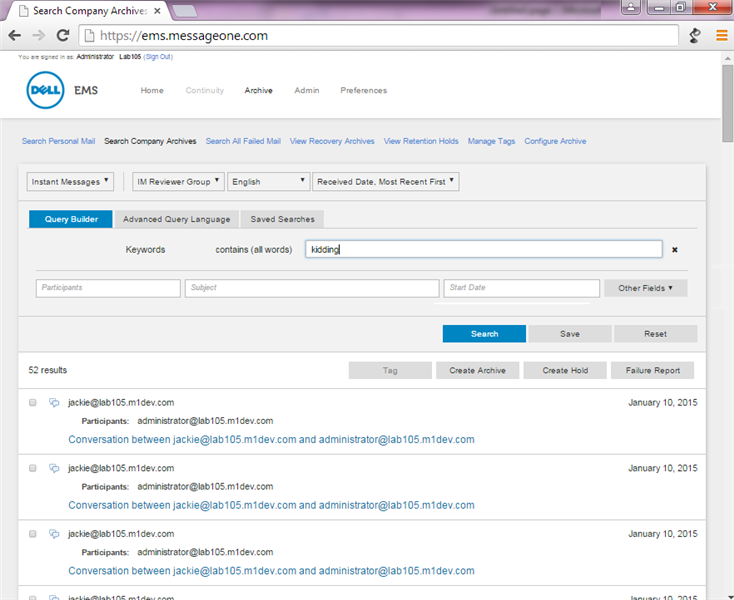 Tagging Conversations for eDiscovery
When a reviewer identifies one or more messages that warrant further attention, they can use the new message tagging capability, also visible in the screen shot above. Tagged messages can be exported, for example, and reviewed offline by a litigation or compliance professional. For organizations with multiple litigation tasks, different tags can be used to associate messages with different activities. This saves time during the review process, and more importantly it can help reduce the number of messages that highly-paid litigation and compliance professionals need to wade through, saving money as well.
And that's why so many large organizations rely on EMS Email Archive. If you haven't seen the press release, check it out here: