I remember when we started to look at the requirement of helping a customer measure the reduction of their company's carbon footprint. Some of our customers wanted to measure any carbon footprint reduction that occurred as a result of decreased travel after Microsoft Office Communication Server/Lync Server was introduced in their environment.
We decided that we could implement a report which would give details about online conferences and the offices involved in the conferences, which could show how travel was reduced within an organization. The result was the All Conferences report that provides details about each online conference in your organization.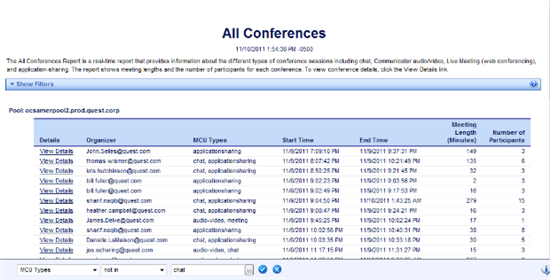 Initially, the report shows all conference types, including chat. You can filter out the chat conferences by selecting the quick filter at the bottom of the report. Select "McuTypes" "not in" "chat" in the quick filter and all chat conferences will be removed. The report will show only the audio-video, Live Meeting, and application-sharing conferences.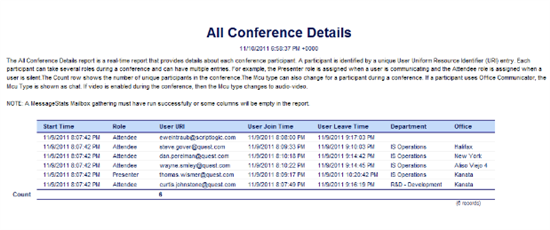 If you drill down by clicking the View Details link, you can examine the details for the conferences. The details include the office location and department for each participant. This helps you analyze the reduction in travel that has resulted from the use of audio-video conferences, Live Meetings, and application-sharing conferences.