Trending upward in IT is the amount of Email data being migrated to the Cloud from On-Premise Exchange.
Specifically, there are increased migrations to Microsoft Office 365 (Exchange Online), which is what we would call a "Cloud Provider" or software as a service (SaaS).
With all that data now residing in the cloud, is there an easy way to report off of it?
Are your managers asking for detailed information about your email environment but since moving to the cloud you're not sure how to collect and report on that information? Well, yes, there certainly is an easy way to obtain this information and this is where Unified Communications Analytics (UCA) comes in. In fact, there are several different highly valued pieces of information that can be retrieved about your Microsoft Office 365 Environment using UCA.
You may be new to our software; you may remember or have used the products in the past. An Exchange reporting tool such as MessageStats could provide Mailbox Size, Mailbox Inventory, Size Distribution and Subscription reports about your Office 365 environment.
Unified Communications Analytics is MessageStats's successor. UCA is far more superior in regards to data collection and reporting.
Hat's off goes to the UCA Developers for recognizing the value of the existing MessageStats reports and taking the opportunity to port as much as possible into UCA.
~On a side note, the UCA Development team includes some of the original MessageStats Developers and Spotlight on Messaging (SoM) Developers (A.k.a Spotlight on Exchange (SoE), for those who remember). The Development team is highly experienced and know how to deliver "Best in Class" Enterprise Level Software to the market, and maintain the products with high-standards.
In addition to the ported MessageStats Reports into UCA, you will also find several other reports or what are known as an "Insight" in UC Analytics.
Reports = Insights in UCA... just an FYI. I mention this so that when you go poking around on the Unified Communications Analytics demo site, you're not looking for the word Report. Report is an Insight; Insight is a Report.
UCA has an Insight Library across multiple platforms:
Active Directory – 19 Insights
Exchange – 100 Insights
Office 365 – (Hybrid\Native) - 80 Insights.
Skype for Business Server\Lync – 41 Insights
Cisco (CUCM) – 19 Insights
Eighty Office 365 Reports to be exact! Which is fantastic! Since we're focusing on the cloud, the rest of this blog will focus on UCA and Office 365 data collection.
UCA can collect data from both hybrid Office 365 (Exchange server on prem, and in cloud) or native Office 365 environments. Meaning the organization doesn't have any Exchange servers in their building (on prem), and their email is now hosted by Microsoft Office 365.
Let's say Management wants a count on "How many emails were sent and received by our company, and how was the top people who sent them?"
That can easily be found with UCA. The Insight called, Email – Activity (screenshot from our demo website):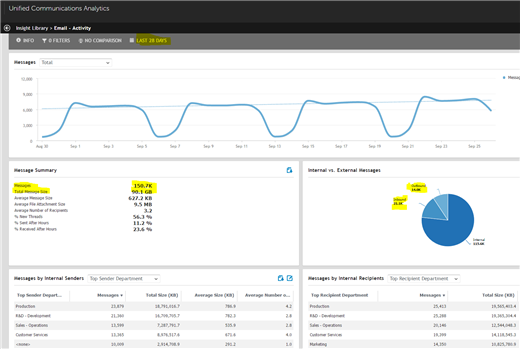 As you can see above Highlighted areas, In the "Last 28 Days", there was a total of 150.7k messages with a total size of 90.1 GB.
Inbound – 21.1k messages came into user's mailboxes
Outbound- 14.0K with total emails not leaving the company being 115.6k (internal)
You can also see the Top Senders based on the Department Attribute in Active Directory. You run your "Top" Senders with a criteria selection of your choice.
Now what if you wanted to see the Details of the Office 365 User Subscriptions?
Easy – Just launch the Insight called "Office 365 – User Subscriptions – Details". Another great thing about the product is it always shows you a description of each Insight, so you have an idea what you're getting into before you select it:

Launch the Insight, or click Add to My Insights for quick use in the future. Here's how it would look!

You can also drill right into the details specifically if you wish.
Another Valuable and outstanding feature is UCA's ability to collect and report off Mailbox Content Data (Remember a report is an Insight J in UCA).
What that means is, it can show you the specifics of an email such as the Subject Line, Recipients, Size of the email and if it was from an Internal or External Sender. All very valuable information in the event you require further information about an important email and to assist you in locating that email.

As in any other Insight, you can drill down into the details and help you find those specifics.
Switching gears to ActiveSync data. UC-Analytics allows you to see which ActiveSync Devices are associated with Office 365 Mailboxes, and which devices are associated with On-Premise Exchange Mailboxes. Especially useful during Migrations to bring up a quick and easy list of all of the ActiveSync Devices and where they're located.
These are just some of the outstanding benefits of using Unified Communications Analytics. I encourage anyone reading this blog to have a peak at the product on our UCA demo website.
If you have any questions at all about the product, please don't hesitate to reach out to us on the Unified Communications Command Suite forum.