Welcome to Microsoft's webcast. I'll be writing and drafting as quickly as I can, apologies for any typos in this initial post. Quick summary – SharePoint 2013 is "the new way to work together". (The "pie" is dead. Long live the pie.) For now, the major themes are
Share
Organize
Discover
Build
Manage
SharePoint is social social social. Got that?
System requirements are going to be:
Windows 2008 R2 or better, SQL Server 2008 R2 or better. No Windows 2008, and no pre R2 version of SQL. For more, visit: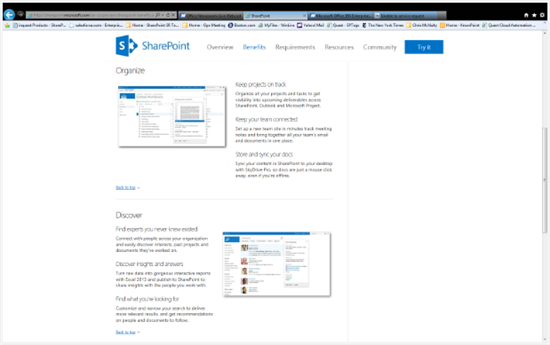 https://products.office.com/en-US/sharepoint?legRedir=true&CorrelationId=00b8917e-b1c2-42c1-93ca-93406c39ed35
· 3pm EDT And welcome to the Steve Ballmer announcement from San Francisco. We just saw an Office logo, and now he's talking about "exciting times" – Windows 8, Xbox, Surface, Windows Phone, and Yammer.
o No sign of Steven Sinfosky or his vneck sweater. Maybe a "vNext" sweater?
o Discussions of Azure, Windows Server 2012, SQL, and the importance of Microsoft Office, especially for students.
· 3:10pm – still no mention of SharePoint!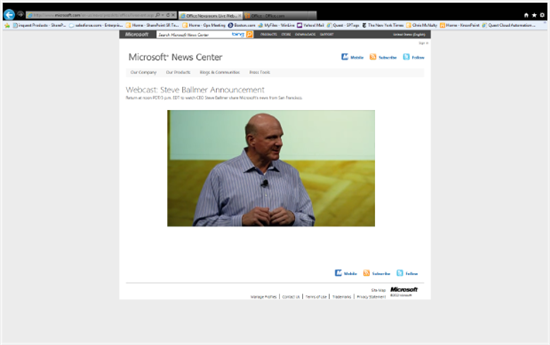 · 3:15pm Kurt Koensigsbauer takes the stage to demo the new version of Office, imagined for Windows 8. And everyone in San Francisco is getting a Samsung Windows 8 demo system to take home. (Why am I in Boston? Why aren't they here?)
o And Coho Vineyards seems to have taken over for Contoso. Poor Contoso – all these years and never a real product in the market.
· 3:21pm Kurt is introducing the new apps model for Office (and SharePoint), so developers can cloudhost their app and integrate it to the Office clients (and, presumably, SharePoint.) It's called Word 2013, so, it may be SharePoint 2013.
o Showing Outlook – the Ribbon and folders are still there, but easily hidden and reveled from finger. There's a neat way to use a pen to "laser point" a presentation without a laser.
· 3:32pm Kurt's "demo" is going to his home (it's the other side of the stage). Because SkyDrive is common to both signins, he can roam, return to the same place, and follow it forward on a Windows Phone.
· 3:34pm SharePoint has been modernized for social features
· 3:51pm Now were watching meeting technology and the Perceptive Pixel giant touchscreen. Happy to see the Boston Red Sox show up on Bing Sports. Good to watch group collaboration happening on a big screen.
· 3:55pm – Steve Ballmer is back summing up. Is there a surprise? Mike Reiss, a student at Baylor University, is the first reference customer. Interesting. Likes tablets. Susan Driever is a super mom who uses OneNote, Excel and SkyDrive. Etc. All consumer stories. Enterprise to follow.
SharePoint does so many things – enterprise search, document collaboration, content management, workflows. But the big spotlight today is social capabilities.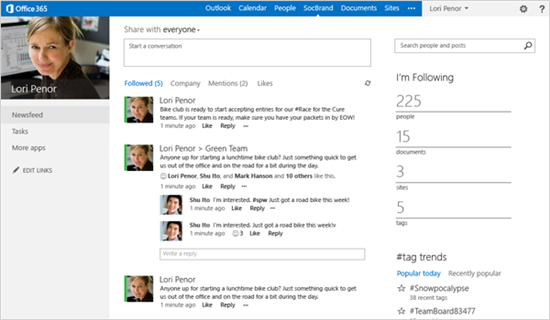 @targets, #metadata tags are innately supported as part of the SharePoint newsfeed experience. (Almost no mention of Yammer).
Service
Office today is designed, now to be a service from the beginning. Office 365 Customer Preview available right now, at www.office.com. Your default storage location will be in the cloud kin SkyDrive. Settings, templates, and preferences will follow you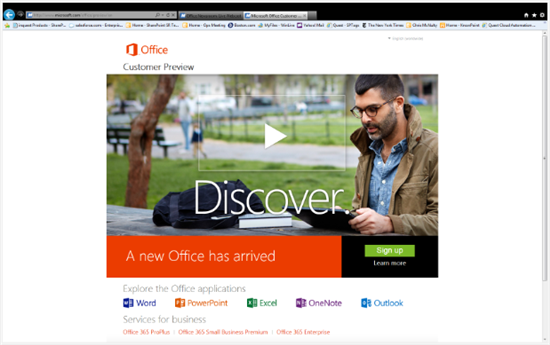 https://products.office.com/en-US/products?legRedir=true&assetid=fx010048741&CorrelationId=d815a7f3-2c24-42e6-a42d-ffa5a789e887&tab=O-Home
Platform
Office is now designed for all platforms, including ARM, including legacy Windows, but especially new OS's. Kurt's demos emphasized usability of the touch/tablet interface.
Design
It will embrace the same design concepts and pricn0oles we've seen in Windows 8, Windows Phone, and Metro.
Enterprise
Microsoft will emphasize home and student usage; and the enterprise usage will come in later breakout sessions.
Social
Working patterns are different now. In 1980, Microsoft gave everyone a private office. That's not the way now and the modern office needs to balance ease of team formation with enterprise oversight. Digital techniques can also automate meetings and notes. Finally, SharePoint 2013 will add significant new modern social techniques.
Skype
You can make Skype calls from the UI.
We'll have more to come on what this means for Quest SharePoint solutions, our new prodiucts, and opur support roadmap soon. Also, look for our SharePoint 2013 readiness webcast series, kicking off shortly. More details to some here on SharePointForAll!