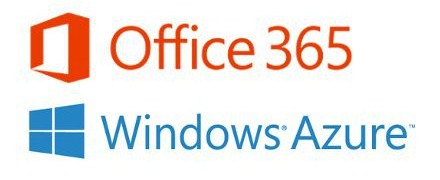 One of the most anticipated announcements at the Microsoft Ignite conference was a new SharePoint Online Migration API that takes content onboarding to Office 365 and OneDrive for Business to a whole new level. If you missed session at Ignite, here is a link to watch the recording.
And today, Quest is excited to announce full support for this new SharePoint Online Migration API with a new feature called "Azure Turbo" in Migration Suite for SharePoint.
What makes this new API so great for customers moving to Office 365 and OneDrive for Business and what does it have to do with Microsoft Azure? Read on to find out!
How It Works
Traditionally, if you were tasked with migrating existing SharePoint or file data to your Office 365 tenant, you most likely turned to one of the independent software vendors (ISVs) for migration tools. And the process was pretty similar with all of them – the application would connect to SharePoint Online or OneDrive for Business, and then use CSOM calls to create target sites and lists and import files.
This familiar process changes drastically with the SharePoint Online Migration API. The enabled migration tool would package the source data and upload the packages along with accompanying XML manifests to Azure Storage. Then the application calls an API function to add the migration job to the Azure Migration Queue. A timer job will then pick up the package and import it to the specified location in SharePoint Online or OneDrive for Business. Detailed log files are saved to the same Azure Storage account for the application to pass on the import results to the user.
The Benefits
Obviously the main benefit is much faster data imports into Office 365 SharePoint Online and OneDrive for Business. With its much more efficient bulk processing, the SharePoint Online Migration API enables significant speed increase over traditional methods leveraging Client-Side Object Model (CSOM) calls. According to Microsoft, the throughput gain is at least 5x! So now you see why we call it Azure Turbo.
Another important advantage for Office 365 customers is that the traditional content upload methods compete for bandwidth and server resources with regular tenant users. A massive migration can bring down not only the target tenant, but degrade the service availability for its neighbors. To counter this, Microsoft plans to throttle excessive CSOM calls, making traditional migration approaches even slower. The new API leverages a completely separate infrastructure and therefore data onboarding does not impact normal service consumption and is not subject to throttling.
Now you might be wondering, what's the catch? It is a 1.0 solution from Microsoft, so there are a few missing parts in the new API. You will be glad to know that Migration Suite for SharePoint fills in the biggest gaps for you behind the scenes. Let's examine them now.
Caveats of the new SharePoint Online Migration API
Supports Content Migration Only:

At this time the SharePoint Online Migration API is designed to handle content and content related attributes (metadata and item permissions) only. Site creation, permissions, views, workflows, content types, etc. will still be created using a number of other available APIs outside of this new functionality. Migration Suite for SharePoint will use CSOM to handle these, and then employ Azure Turbo mode (i.e. the new API) for fast content import.
Queue Times and Processing:

Quest does not control the queuing process, order or operation of the Azure queue. Once Dell submits the job to the queue via Migration Suite for SharePoint Azure Turbo mode, it has been completely handed over to the Microsoft function and we no longer have any ability to predict the order or processing times of any job. In fact, once the import log appears in the application letting you know it has been queued, you can shut down Migration Suite and the queue will still process in Azure.
Because of all the handover and queuing overhead, you may not see much performance benefits when you enable Azure Turbo for small imports. In fact you may even see slower import rates in your tests. Azure Turbo needs more than a handful of files to really deliver on its promise.

File Size Limitation:

Currently the SharePoint Online Migration API only supports files up to 2GB in size. Larger files can still be uploaded in Migration Suite with a regular file import using CSOM.
Using Azure Turbo in Dell Migration Suite for SharePoint
It is really easy to put the new Azure Turbo feature to work for your next Office 365 migration. Just copy and paste a site, document library or file folder to a SharePoint Online site or OneDrive for Business and select the Azure Turbo option in the copy wizard. You will be prompted for an Azure Storage account name and access key (so have them handy!) and you are good to go!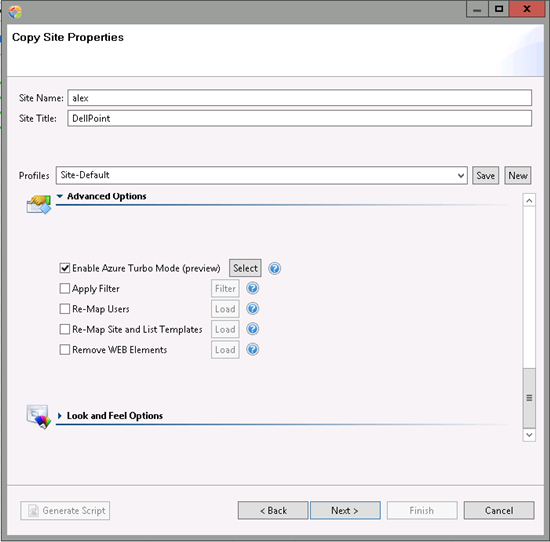 For more information please refer to the Migration Suite for SharePoint User Manual.