I recently had the pleasure of driving this beauty at an event in Las Vegas.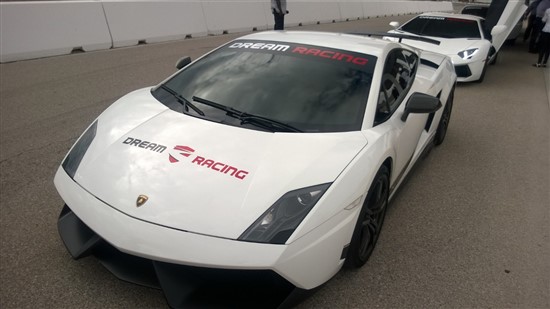 I know tough life... but it got me thinking how wonderful life would be if you could migrate content into Office 365 (specifically focused on Exchange Online) as fast as this high performance car. I have to admit I was a nervous wreck that morning as I've never driven such a marvelous engineering machine. I'm not a car buff by any means but this car's top speed is 202 miles per hour (mph) and gets to 60 mph in 3.4 seconds. Let me compare that to my lovely minivan which top speed is 120 mph and getting to 60 mph takes 7.5 seconds. Trust me... I've never tried to do either of these things with the mini-van [:)]
Would you agree that it's unrealistic to spend the effort in trying to change my minivan to get the same performance as the Lamborghini? Let me state the obvious that I would never want to do that so I'll assume everyone else is like me. So luckily for us when it comes to Office 365, there are some best practices we can follow to improve our data throughput so at least we are going as fast as we can. Okay comparing it to a Lamborghini performance is a stretch but driving this car was the coolest thing that I've done in a while and I had to share the experience. So let me get back to the topic at hand.
What are some of the recommendations to get to these top speeds and I'll of course relate it to this driving experience. Here they are:
1) Review throttling limits and make appropriate changes - Microsoft provides excellent guidance in this technet article http://technet.microsoft.com/en-us/library/dn592150(v=exchg.150).aspx and I've taken an excerpt so you understand why Throttling limits exists in the first place. "It's a common practice to protect email systems with a throttling policy, which sets a specific limit on how fast and how much data can be extracted from the system within a certain amount of time and by using a specific migration method." Basically, you don't want to cause a Cloud Gridlock to occur where those email services are essentially unusable and/or unavailable to others that rely on the same service. In my driving experience with the Lamborghini, the professional drivers ensured that each of the cars on the course were spaced out well enough for us to enjoy the driving experience. In some stretches, we all were able to hit speeds of well over 120mph. That was just plain fun...
2) Review your network and make appropriate changes - You'll be migrating content from many different messaging stores out to Microsoft's Data Centers and your messaging stores could exists across slow wan links and in locations that have unreliable connections as well. Don't forget about your Internet connection too. In that same technet article above http://technet.microsoft.com/en-us/library/dn592150(v=exchg.150).aspx, there are some recommended analysis tools that can be run. This is an excerpt from that same technet article.
The Office 365 Network Analysis Tool is deployed to help analyze network-related issues prior to deploying Office 365 services:
Another useful tool to understand mailbox migration performance can be found here as well https://blogs.technet.microsoft.com/exchange/2014/03/24/mailbox-migration-performance-analysis/
My analogy with the driving experience is there are certain road conditions that have to be met in order for us to enjoy the racing experience. For example, no debris on the track, conditions of the tires and race car needs to meet certain specs and last but not least, the weather needs to cooperate. If rain occured, we would have had to find something else to do.
3) Perform a pilot - You need to validate that all the assumptions you've made at this point actually hold true in the real world. Sure you can simulate some of this to understand what you might get but you won't actually know until you've done a pilot migration. This helps you reset expectations, adjust your migration plan and make whatever changes you can to improve your current position. While I understand this doesn't actually help you improve your performance from a hardware and software perspective, it does help ensure you don't slow down your migration efforts due to expectations and process related issues. You can make sure that gaps are resolved prior to migrating the rest of the user population. Some examples that come to mind are applications that are intergrated into your email system that are not known, extra help desk procedures that were not identified during the planning stages, additional infrastructure changes required, adjusting the plan to accomodate for maintenance windows, factoring in network utilization during specific time periods, etc. My analogy for this one was the first few laps that were taken in the car. The professional driver made sure to ease me into each turn and each straightaway. While this was happening, I was getting comfortable with the car and the track so I knew what I was going to be doing and what I could expect. This was very important as we pushed the car to it's limits on the next few laps. Okay, I probably was pushing my own limits more then the cars but you get the idea.
4) Leverage a trusted partner - Since most companies don't perform migrations on a regular basis, they lack the in house expertise to make this project successful. This doesn't mean they can't learn to be migration experts. It's just a question of whether you want to add that project to the existing staff's workload. Regardless of what option you choose when it comes to resourcing the migration project, it's important that you rely on the expertise of a trusted partner. You want to make sure that they have this expertise and they are able to provide you the best support through this process. Migrations are not easy and can be very complex. This tidbit isn't a hardware and software improvement to make your data ingested faster into Office 365 but it is a tidbit to help increase your confidence in the migration and help you migrate as fast as you can. In my comparison to the racing experience, if you noticed I kept on talking about a professional driver. During the entire driving experience, there was a professional driver sitting in the passenger side of the car. He instructed you on when to up shift, down shift, brake, turn, etc. He was that voice that helped guide you through this experience so you were safe, comfortable and enjoyed the experience.
I've covered a few that I can think of but I know there are many others that are important as well. Please feel free to share some of your recommendations. Also, if you guys ever get a chance to have the same driving experience in Las Vegas, make sure you get a tour of the course in their minivans... Let's just say I had no idea a minivan could be manuevered in such a manner. I bet you'll be just as surprised as I was.
Happy migrating,
Tri