There are three things that scare most kids at Halloween at my house.
Walking through a fog and not being able to see what is ahead of them
Strange sounds coming from somewhere
Dead things that move
Migrating your Notes applications is similar to going out on Halloween.
Walking Through a Fog
Customers often start a migration project with a clear goal in mind: remove all of the Notes applications and Notes clients. They soon find that the path is not so clear. They don't know the obstacles that lie in front of them. They slow down and sometimes stop altogether.
At Quest, we know the migration path and can help guide you with the best migration tools, training, services, and guides.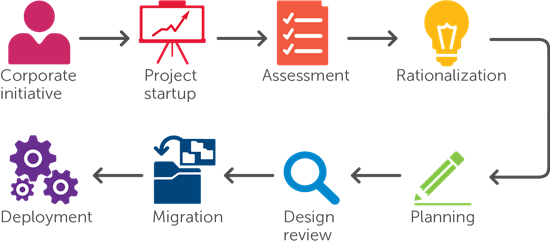 We recently published two guides to help you with assessment and planning.
The Pre-Migration Assessment Guide demonstrates how to use Migrator for Notes to SharePoint to capture Notes application data, analyze the date, and report on the data for a successful assessment project. The document describes several recommended actions to be taken during a Notes application assessment including:
determining when to use an assessment feature
what order to run scanning features
what to do when there is an error
how to analyze the assessment data
which assessment data is most important
how to set technical and business classes
The Pre-Migration Planning Guide provides a list of the activities that should be completed prior to starting a Notes application assessment and/or migration. The goal of these activities is to create a common understanding of the project prerequisites and deliverables between the customer and the service provider (e.g. a Dell partner). It will also help to ensure that the right actions are taken by both parties to have a successful project.
Strange Sounds Coming From Somewhere
Those moaning and groaning sounds that customers hear are coming from their users. Users are afraid of losing the applications that they have. They are voicing their concerns and fears.
The Pre-Migration Planning Guide includes a section on end-user communication. A user communications plan should be a central component of your migration planning, to facilitate early and continuous communications with end users. The end users will need to know:
When and how their Notes applications will be migrated or archived.
How the migration will affect them.
What (if any) tasks will be required of them to complete the migration.
How to use SharePoint and / or Office 365 (end-user training).
The guide also includes a sample Communication Plan for you to fill out.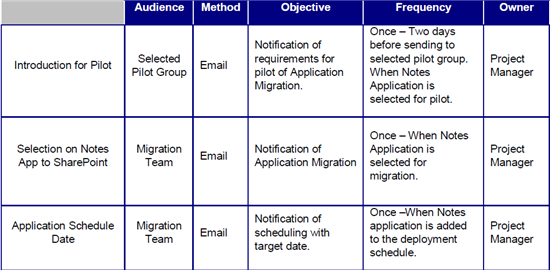 The communications plan will help you to communicate in an effective and timely basis with your user community. The implementation of the plan will assist you in reducing the fear that your users have about the migration.
Our guide also includes a section on creating a survey for application owners and/or users. The information gathered in a survey is used to validate and enhance the technical data gathered by the MNSP tool. For example, the MNSP tool may report that a Notes application has high usage; but the survey tool may report that the application owner prefers to archive the Notes data and start with a new application on SharePoint.
Dead Things That Move
There are a lot of dead Notes applications in a customer's environment. No one wants to move a dead Notes application to a new application platform. Fortunately, there are several features within our Migrator for Notes to SharePoint tool to help you identify dead Notes applications.
We recently published a new set of training videos for pre-migration discovery and analysis. One of the training videos is on the topic of how to analyze Notes applications usage. The training video shows how to view the database usage details and get a more accurate last used date value. You want to filter out the user names of Notes administrators, developers, agent signers, and users who ran previous application scans.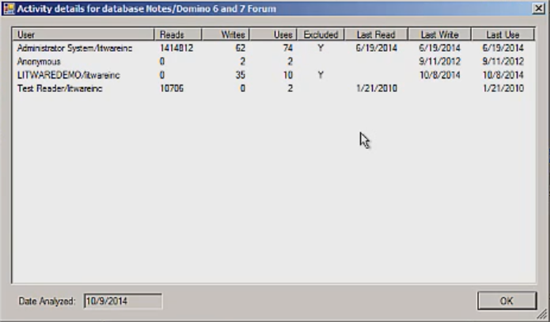 Thus, you will find who really used your Notes applications for business and when they were last used. You may want to exclude Notes applications with no usage for one year or longer from your migration effort.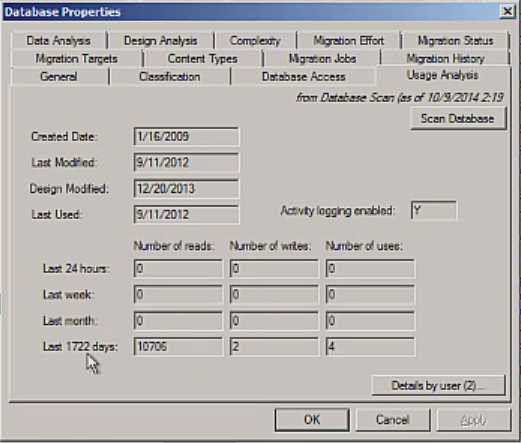 Our training video on the topic of how to classify Notes applications will help you with classifying the Notes applications. The classification effort will help you as you plan for the migration effort. During the migration effort, you can archive the content in these Notes applications to PDF/A files using our Migrator for Notes to SharePoint tool.
Success in the End
The good news is that the fears of a Notes application migration project can be overcome with proper planning and using the right migration tools. At Quest, we've been helping customers migrate successfully for more than a decade, and in that time, we've gained significant experience in this space. Dell offers numerous white papers, tech briefs and other helpful documentation for customers and partners embarking on their Notes application migration.
We put together a Migrator for Notes to SharePoint wiki page to aggregate all of our thought-leadership together in one place.
Of course, you can always visit the product web site to download a trial copy of Migrator for Notes to SharePoint.
There is also good news for the kids who make it to my door on Halloween. They are greeted by my two hot dogs and get Halloween candy.
Treat for You