By Alex Kirillov
Migration Manager for SharePoint 2.0 was officially released yesterday. You can get your copy from https://www.quest.com/solutions/sharepoint/ or Quest SupportLink.
I have already blogged about what's new and coming in this version in my previous posts. But there is a couple of new features packed into Migration Manager since then that I want to mention:
List-level migration for both SharePoint 2003-2007 and 2007-2007 migration paths - you can migrate, copy, move or deploy individual SharePoint lists and document libraries: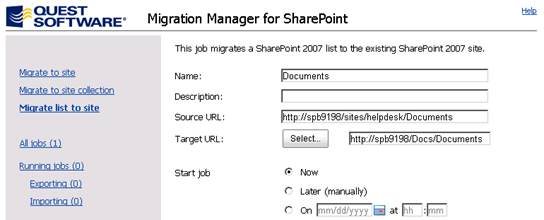 Import migration jobs from a CSV file - Migration Manager comes with a complementary script that allows to import migration job definitions from a comma-separated file (file format and script usage instructions are detailed in the user guide)
Thanks to everyone who participated in this release and made it possible!