SharePoint migrations are complex and time-consuming, and native tools for SharePoint migrations often leave behind essential information, such as metadata, permissions, and workflows. They're also very limiting when it comes to migrating SharePoint sites to Office 365.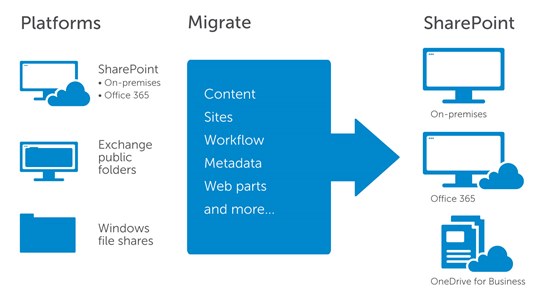 Migration Suite for SharePoint simplifies migrations, while virtually eliminating the risks of downtime and data loss by doing the following:
Scanning legacy content prior to migration, identifying any potential issues such as missing or custom templates, features and web parts, checked out documents, file path or size limitations, and blocked file extensions.
Executing streamlined, bulk migrations or phased, granular migrations.
Preserving, re-assigning, and adding metadata to content as it's migrated, leveraging information for business intelligence.
Simplifying project management by scheduling migration steps to occur automatically during non-work hours, and getting real-time progress reports to ensure on-time completion.
Ensuring post-migration success with side-by-side visual comparisons of sites and lists to identify discrepancies.
Migration Suite for SharePoint is also Azure Certified and available in the new Microsoft Azure Marketplace. You can spin up a virtual machine from the Azure Gallery that has Migration Suite pre-installed.
Download the free 30-day trial version of Migration Suite for SharePoint, and don't forget to leave your comments here, ask questions in the discussions area, or reach out to us on Twitter.