Migration Suite uses Microsoft Outlook and your Outlook profile to enumerate and retrieve public folders and items. Depending on how Windows and Outlook are configured on the computer, you may see the following warning when accessing mail folders from the Connections pane: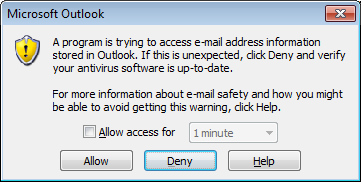 It might not be easy to notice the window as it is not brought into the forefront, but instead blinks in the Task bar. You can allow access to Migration Suite temporarily using this window, but the longest period it can be suppressed is 10 minutes. Which is okay for a quick test, but becomes a pain for a larger production migrations.
The reason why this warning is displayed is the default Outlook setting that warns the user when a program tries to connect to Outlook programmatically and there is no or outdated antivirus on the computer to handle the potential threat.
To locate the setting, open Outlook Options , select Trust Center and click Trust Center Settings. Then select Programmatic Access: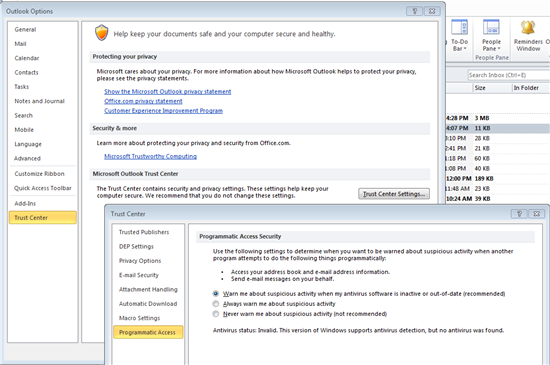 You can switch off the feature completely for the time of migration, but installing/updating the antivirus software on the computer is not a bad idea either.