Three new features in Migrator for Notes to SharePoint 6.4
I want to let our Notes Migration tool users know about the three new features coming out in release 6.4. It includes all of the hot fixes that we worked on since the last release. There are three new features that you should be aware of.
First, we added new Dell branding in the product. Basically, we replaced the Quest logo and name with the Dell logo and name. I make note of a few places where this is done. However, the Dell rebranding required a product renaming. Because of this, you will need to request a new license key! You cannot simply uninstall and install the GA build and continue working. Your old license key will not work for you. Existing customers of Notes Migrator should receive a support notification about a week after the Migrator for Notes to SharePoint (MNSP) product is released as GA. The notification should include a link to our upgrade site to get a new key.
Second, we replaced open source code that was used to transform Notes documents to PDF and Word documents with a new transformation engine from Aspose. This engine provides greater stability and a new capability to save to PDF/A files.
Third, we added new reports to provide a little more analysis on the data captured by our tool. We are already planning to upgrade the reporting engine to the latest version in the next release of Migrator for Notes to SharePoint.
You will not be reprimanded or punished if you continue to refer to "Migrator for Notes to SharePoint" as "Notes Migrator" or "NMSP". Many people still refer to it as "Quest NMSP". A good product name is important to us; but product features and support are more important.
Installing Clients (and Dell Branding)
Please uninstall your existing NMSP client first.
Then install the new Migrator for Notes to SharePoint 6.4.0 client. The first thing you may notice is that the product name has changed. The name change will align all of the "migrator" products.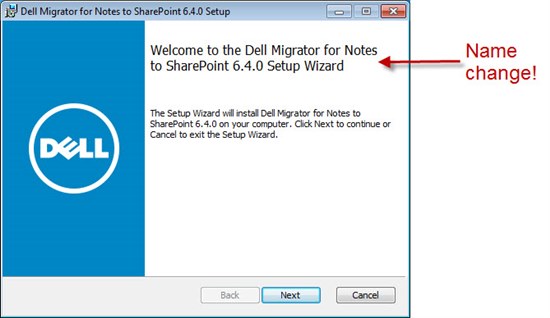 Same three core features:
1.

Console
2.

Designer
3.

Documentation
The installation folder path has changed to: C:\Program Files (x86)\Dell\Migrator for Notes to SharePoint\
In fact, you may notice almost all references to Quest are changed to Dell.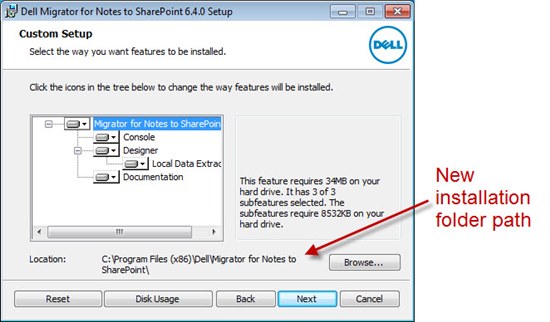 Dell is the verified publisher of the software.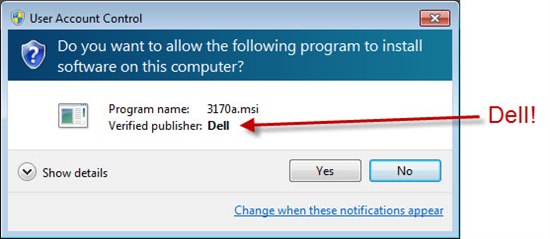 Transform Notes Documents to PDF/A Format
There is new option for TargetType in the Data Fields tab for the SharePoint Target Data Definition.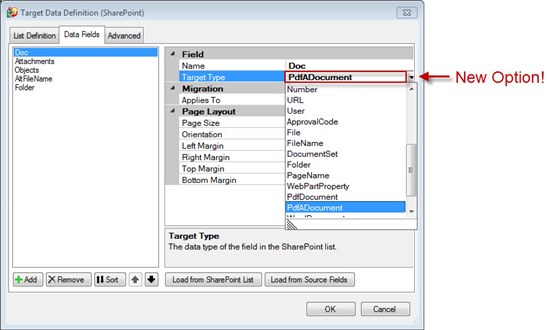 In the Advanced tab, you can set the PDF Custom Properties option to Migrate document fields to custom properties.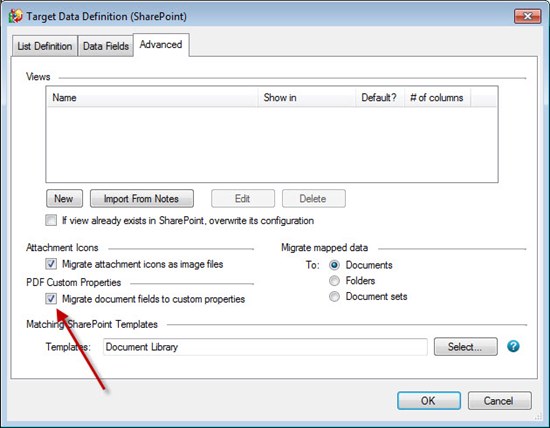 The original Notes document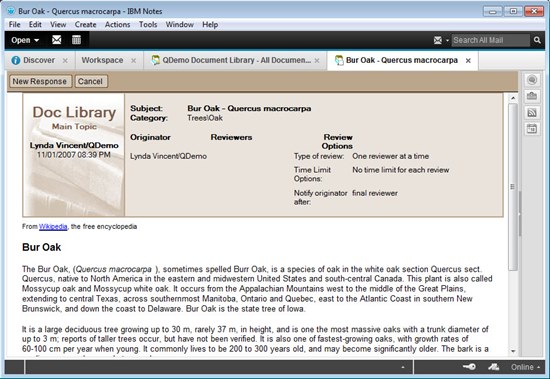 The transformed PDF document rendered with the Aspose PDF engine.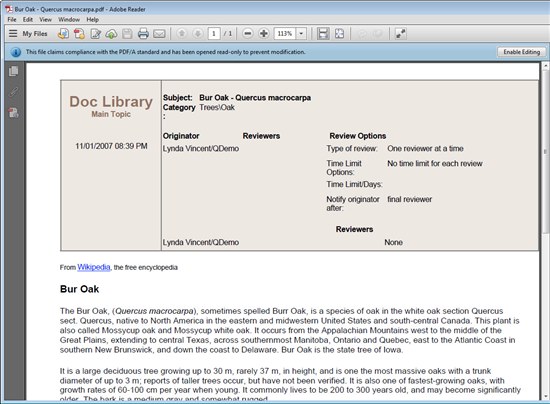 The PDF document is compliant with PDF/A standard.

Clicking on Enable Editing will render it non-compliant with the PDF/A standard. You will be forced to save the file under a new name. You will not be able to modify the original file.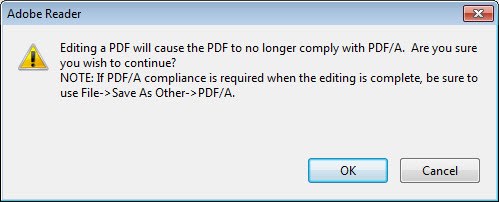 Some of the PDF Document properties are seen in the Description tab. You can see that the Aspose transformation engine was used – including which version of Aspose: 9.2.1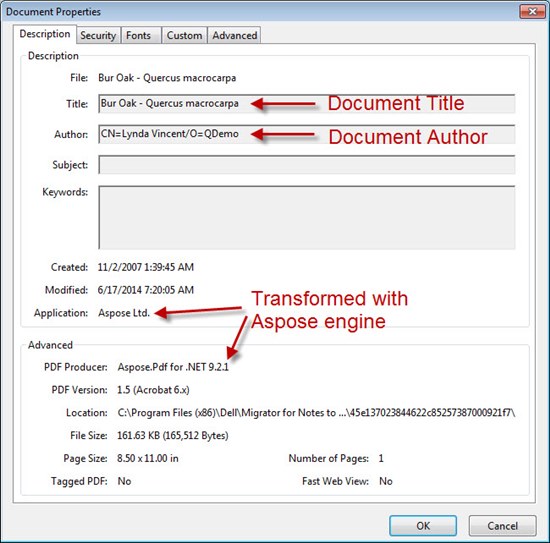 Custom properties are copied over based on what is set in the migration job. That is, the data fields are listed in the Source Data Definition: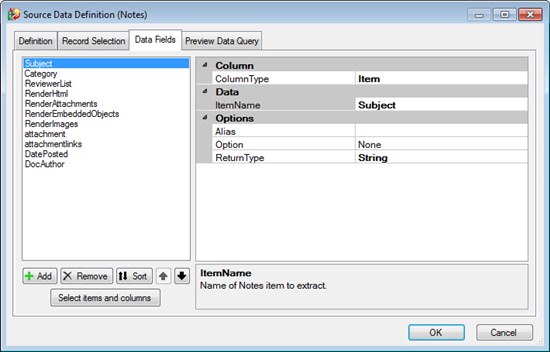 And the data fields are listed in the Target Data Definition: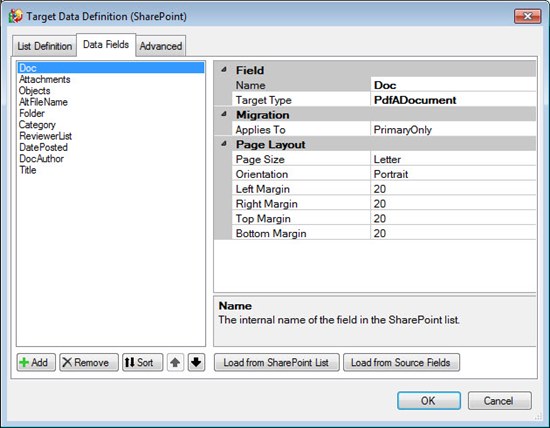 Then you can see the migrated custom properties listed in the Custom tab: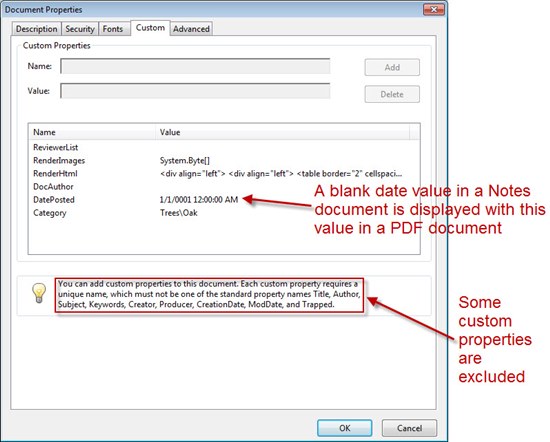 New Reports
New reports can be seen listed in the Reports section.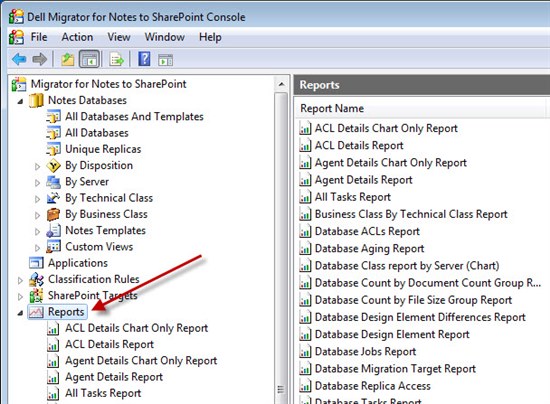 Eighteen new reports were added. New reports have a file name starting with "Advanced".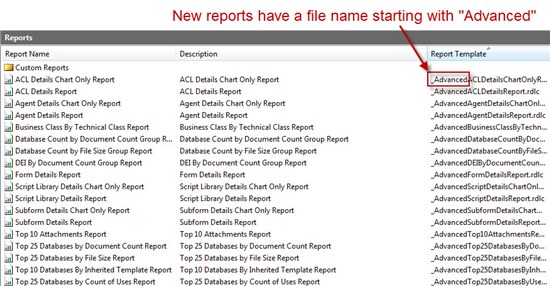 I will create a separate blog post that provides more details on each of the new reports.
Uninstalling Services
You must uninstall and then re-install the services on your SharePoint server to upgrade to release 6.4 I switch to my SharePoint 2013 server. It runs on a Windows 2012 server named server2012sp. I logon with my sp_farm user account. That account gives me all of the administrator rights and privileges that I require.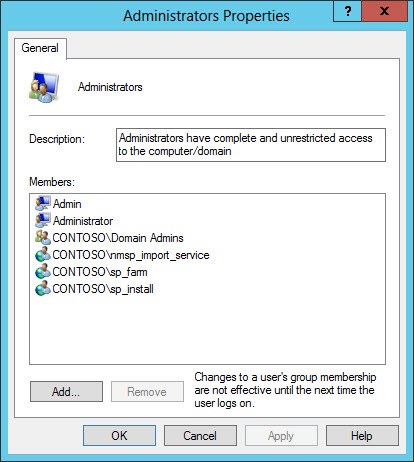 I uninstalled the services from my SharePoint server. Note that I had a 6.4 Beta version of the tool installed.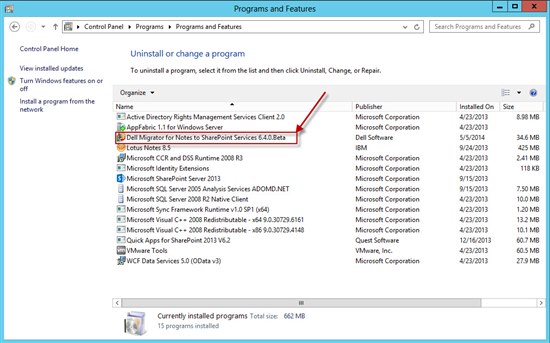 I will not provide details of all of the uninstall steps.
If you see this message, you are using a Windows account with insufficient access.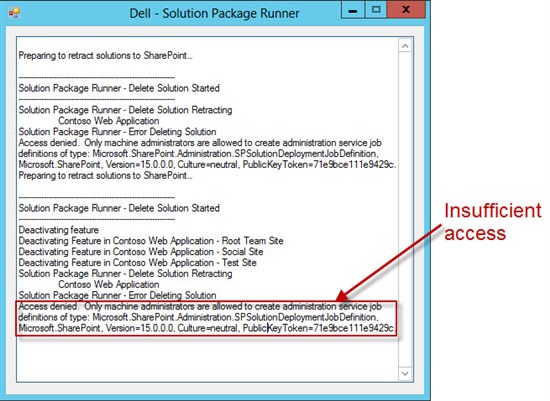 You will probably need to sign in as a local administrator and uninstall the two services using the SharePoint 2013 Management Shell
Make sure to Run as administrator.
Run the remove-spsolution command and remove both of the services:
quest.nmsp.admin.wsp
quest.nmsp.frontend.wsp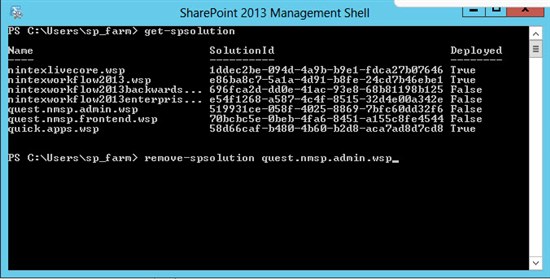 I run the installation file and use all of the default settings.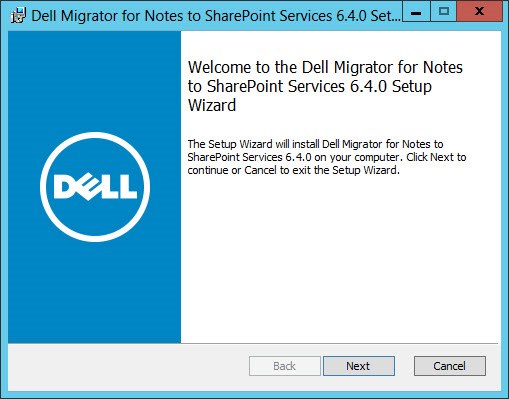 I use the following settings for the Import Service.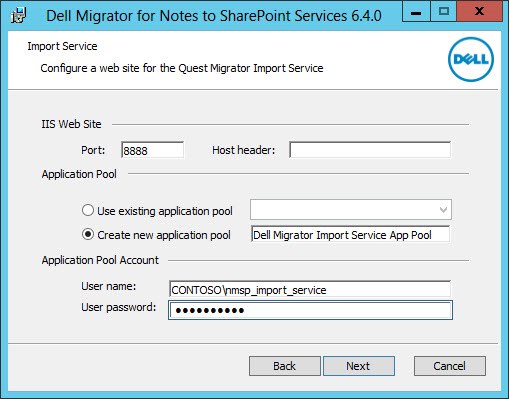 I run the Dell Solution Runner (again as Administrator)


The Dell Solution Package Runner screen appears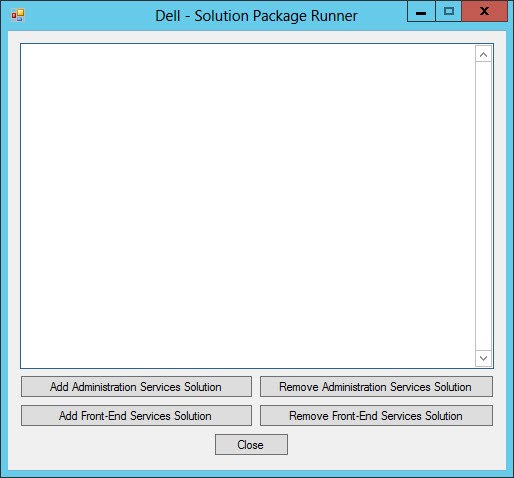 I click on Add Administration Services Solution. The solution installs successfully.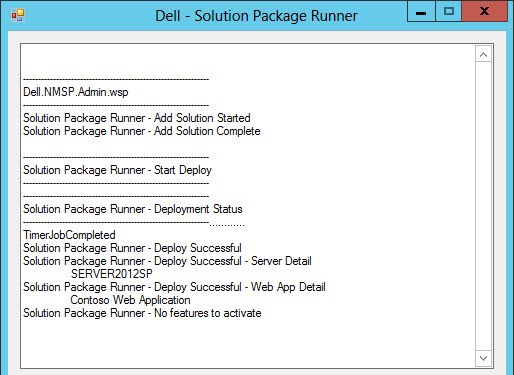 I add the Front-End Services Solution.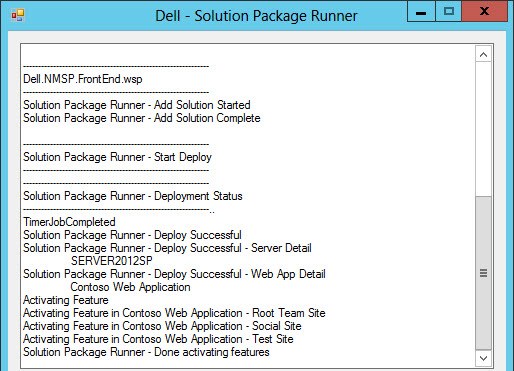 This solution installs successfully and I click Close.
I run SharePoint 2013 Central Administration as Administrator

I login into SharePoint with my sp_admin account

I click on Manage farm solutions in the System Settings.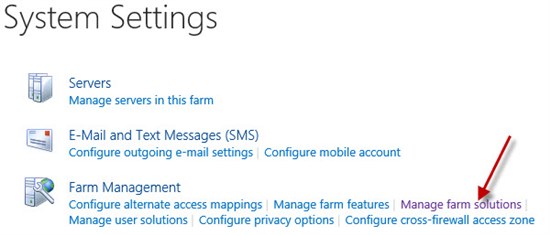 Both of the services are deployed

Summary
I hope that this information helps you understand more about the new features in release 6.4. I also hope that it helps you prepare for upgrading. Feel free to post any questions that you have here or in our community forum.