Of all the ways your mobile devices give you flexibility, have you ever used them to monitor your SQL Server performance? Think of the peace of mind that would give you as a DBA.
We call that "Mobility Tranquility" – the freedom to monitor the health of your SQL Servers anytime and from anywhere using the new Spotlight for SQL Server mobile app for Android, iOS and Windows Mobile.
Our Peter O'Connell was grateful for Mobility Tranquility during a recent event in Seattle, as he serenely used his smartphone to monitor 80 SQL Server instances running in Melbourne, one-third of the planet away. With the Spotlight for SQL Server mobile app, he even managed this without going blind looking at a scrunched-up browser interface! Peter gladly showed friends and colleagues how the servers were doing and crowd-stormed his troubleshooting with them right there.
You too can do that, as you'll see in this series of posts.
Spotlight mobile app for SQL Server performance monitoring
Why stop your life to monitor your SQL Server databases? It only makes sense to add your performance monitoring duties to the long list of things you can do from a mobile device, where convenience reigns supreme.
Take this heatmap from the Spotlight mobile app, for example: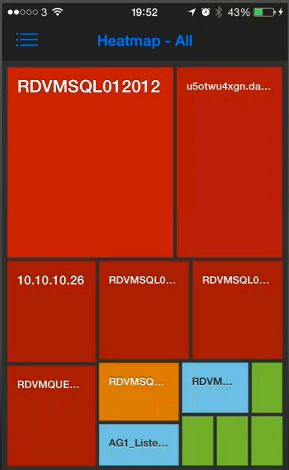 We call this the "Dilbert manager screen" because you don't need to know anything about SQL Server to understand how it works. But I'll tell you anyway.
We've put the biggest, reddest boxes at the top to show you where to focus your energy first – in this case, on the SQL Server instance named RDVMSQL012012. It's simple but effective, because if you have tens or hundreds of instances running, your immediate question is usually, "What shall I focus on first?"
You could be standing in a gondola on the London Eye or taking a selfie at the Taj Mahal, checking the heatmap and phoning your fellow DBAs in Chicago to have them troubleshoot RDVMSQL012012.
Lower and to the right in the heatmap are the SQL Servers that don't need immediate attention. You can examine them as well, but the mobile app makes it clear how to set your priorities.
When you swipe right, you see details like color- and number-coded alarms against each connected SQL Server, with their associated severity: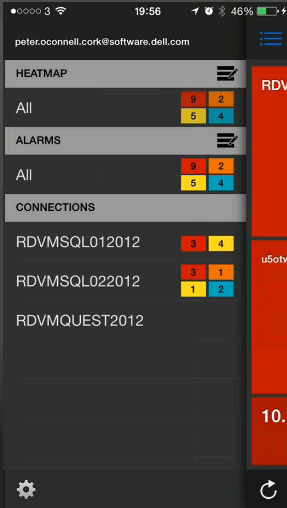 Stay tuned for upcoming blog posts showing you how to explore each alarm and even dive deep into diagnostics mode.
See the webcast on the Spotlight mobile app
The Spotlight mobile app is available now for Android, iOS and Windows Mobile.
We've recorded an on-demand webcast called SQL Server DBAs: Do you have Mobility Tranquility? If you're already monitoring your SQL Server performance with Spotlight, join Peter O'Connell as he reviews the desktop functions you can now access through the mobile app. And if you're new to Spotlight, Peter will introduce you to the wide range of SQL Server metrics you can monitor, plus the convenience of doing it through your mobile devices.