Mobility Tranquility is the state we want to put you in. It's where you are when you're using the Spotlight mobile app to monitor the performance of your SQL Server instances anytime, from anywhere.
Spotlight collects SQL Server performance data from all layers – SQL Server, Windows, VM layer/Hyper-V, Analysis Services, High Availability, Replication and SQL Azure – then summarizes it in dashboards that make it easy for DBAs to execute basic troubleshooting tasks:
Prioritize at a glance the instances in greatest need of your attention
Run diagnostics quickly for individual instances and the SQL Server environment overall
Analyze and get to the root cause of performance problems
We've taken the highest-level, most urgent functions of Spotlight and built them into our mobile app for Android, iOS and Windows Mobile. You can pull out a smartphone or tablet anywhere at any time and monitor SQL Server performance, no matter how far away your servers are located.
Monitor SQL Server alarms and performance
In my previous post, I described the heatmap in the app that shows you which of your instances are most in need of attention: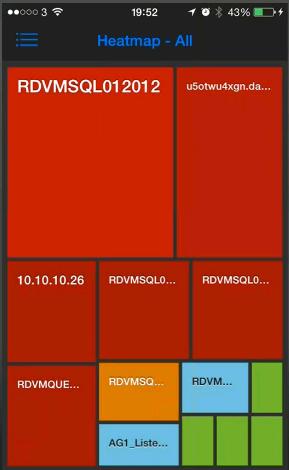 You can touch any tile for high-level information about what's going on inside the instance. More important, you'll see specific notifications and alarms coming from the instance. In this example, database ADWorks12_DBM has some mirroring problems you'd better address: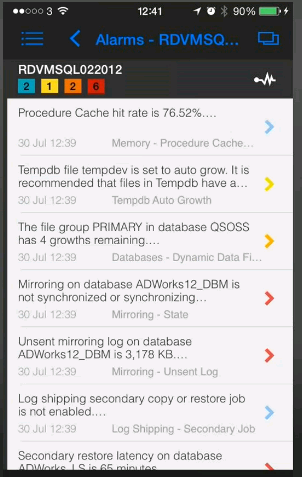 You then access a deeper layer of diagnostics for sorting and grouping notifications: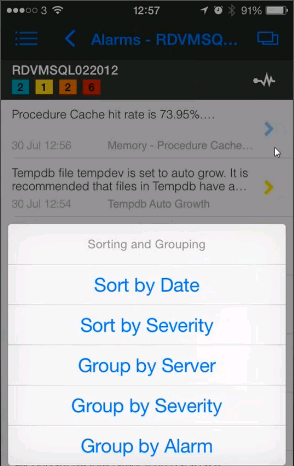 As with the heatmap and everything we build into Spotlight, our goal is to make it easy for you to find any SQL Server performance problems as quickly as possible and start troubleshooting right away. Sorting and grouping of diagnostics is now available in the iOS app and will soon appear in the Android and Windows Mobile apps.
Watch the webcast and install the Spotlight mobile app
Our own Peter O'Connell conducted a webcast called SQL Server DBAs: Do you have Mobility Tranquility? You can listen as Peter takes you through the mobile app and describes the freedom it gives DBAs to "monitor SQL Server performance back at the office while out on a boat in Galway Harbor, being rained on and getting hypothermia." Peter never lets a good time get in the way of monitoring his databases.
Watch the webcast for a lively overview of the Spotlight mobile app, Spotlight for SQL Server Enterprise and Spotlight Essentials.