Do you think you need to be glued to your desk to ensure maximum performance in your SQL Server environment? Who wants to stop life for that?
Not us. That's why we've released a mobile app for Spotlight for SQL Server Enterprise. It's your ticket to "Mobility Tranquility," the freedom to monitor SQL Server health from anywhere, anytime.
Whether you're schussing down the Klein Matterhorn or zip-lining your way across Costa Rica, you can monitor the performance of your SQL Server instances no matter where they're located.
Few people associate the life of a DBA with tranquility, but you can at least taste it with the freedom you'll enjoy using the Android, iOS or Windows Mobile app.
SQL Server performance monitoring in a mobile app
Diagnostics is at the heart of performance monitoring. My previous post described the top level of diagnostics you can access through the mobile app. In this post I'll describe more functions.
For any SQL Server instance appearing in the app, you can drill down into the same diagnostic elements you see in the full desktop version of Spotlight: System, Performance Health, Sessions, Processes, Memory, Background Processes and Disk Storage. Each element is color-coded so you can easily see where to look first for performance problems: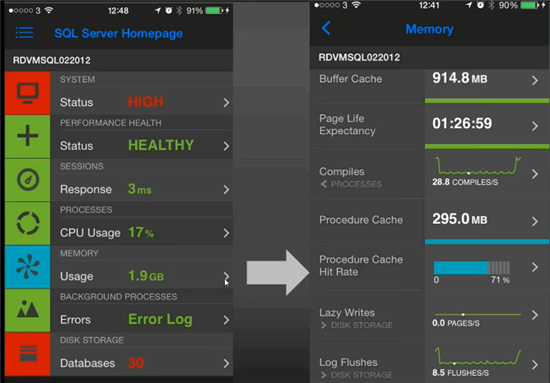 Within each element you can drill down to as much detail as you'd find in the desktop version of Spotlight for SQL Server Enterprise, except that you don't have to be seated at your PC to see it all. The example above shows how you can drill down into memory usage and into all of the metrics associated with memory.
The mobile app also includes a playback mode so you can analyze past alarms by rewinding to any point in the previous seven days: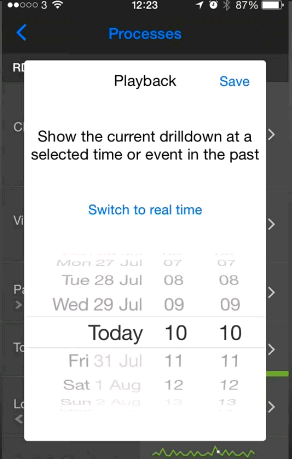 Suppose you're getting onto the ski lift or resting between zip line runs and you check the app. You see that something blocked a process nine hours ago. With playback, you can dial the app back in time and see how it looked at the time of the blocked process. You drill in, see what went wrong and, if it's serious enough, you ask your fellow DBAs back at the office to troubleshoot.
Diagnostics and playback are currently in the iOS and Android versions. Look for them on Windows Mobile and browser versions soon.
See the webcast on the Spotlight mobile app
We call it "Mobility Tranquility." The app offers all the mobility you expect from an app running on your mobile device, and all the tranquility that comes from being able to monitor SQL Server performance anytime, from anywhere.
We've recorded an on-demand webcast called SQL Server DBAs: Do you have Mobility Tranquility? Join Peter O'Connell as he walks you through the wide range of SQL Server metrics you can monitor through the mobile app.