We are very proud to announce that our very own Monique Cadena is a winner of the 2016 Consortium Innovator Award!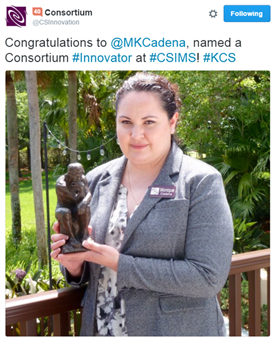 The Consortium is a non-profit alliance of service and support organizations focused on innovation around customer engagement, productivity, and success. The Consortium's work integrates academic research and emerging business trends with members' operational perspectives. The results are new strategies and models that improve the customer experience. The Innovator Industry Award recognizes members who have provided guidance and insight to the Consortium.
Monique has over 19 years of experience in Knowledge Management (KM) and Knowledge-Centered Support (KCS). She has been working for Dell since 2013 where she is currently responsible for driving governance of the SIM KM program best practices and ensuring we are up-to-date with current KM trends.
Congratulations Monique! And thank you for your continued contributions to the field of Knowledge Management!
Be sure to check out our Support site to find solution articles, tips and tricks, tutorials, documentation, notifications, lifecycle tables, training, and product user forums.