As I blogged about previously, Active Directory is a foundation for many mission critical applications including Microsoft Exchange.
Mail has become an important part of our lives and most people use it daily in their jobs to communicate internally and externally.
An outage will affect a lot of people, cost a lot of money due to lost productivity and also cause problem in communications.
If Exchange is so important, what can you do to protect your environment from critical unplanned outages?
Depending of what version of Exchange you have there are different HA options available:
Exchange 2007: Local Continuous Replication, Single Copy Cluster, Cluster Continuous Replication, Standby Continuous Replication.
Monitor performance and availability
Without monitoring you have no idea how your mail environment is performing and if it´s available. You rely only on your users to respond when something isn´t working.
I am going to introduce a much better way that is proactive and will detect, diagnose and resolve Exchange performance and availability issues for you.
The need for a monitoring solution
There are not many native tools available. Perfmon provides Exchange performance counters and can be very helpful when troubleshooting. Not very helpful in daily monitoring as it lacks alarm capability and its presentation isn´t the best either.
Most companies rely on paid tools to do the work. Quest have a long and strong relationship with Microsoft, multiple Exchange MVPs and products that has won many awards.
Introducing Foglight for Exchange
Foglight for Virtualization Enterprise is the monitoring platform that can monitor everything from infrastructure (Physical, Virtual, Storage etc) into application layer (Exchange, AD, SQL etc).
The strength is to combine the knowledge from the infrastructure and the application layer, correlating the data and give you the root cause of an issue. Reducing mean time to resolution making your life easier!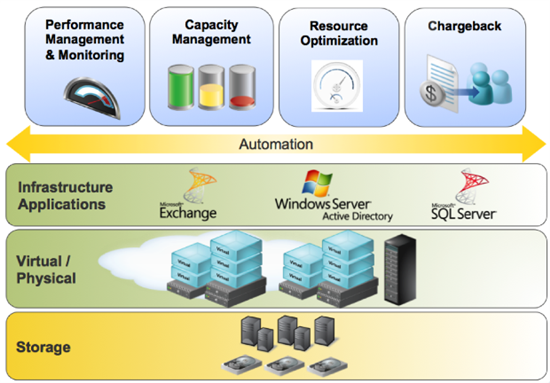 Foglight for Exchange is an add-on to Foglight for Virtualization Enterprise that helps you detect, diagnose and resolve Exchange performance and availability problems without requiring any deep Exchange expertise.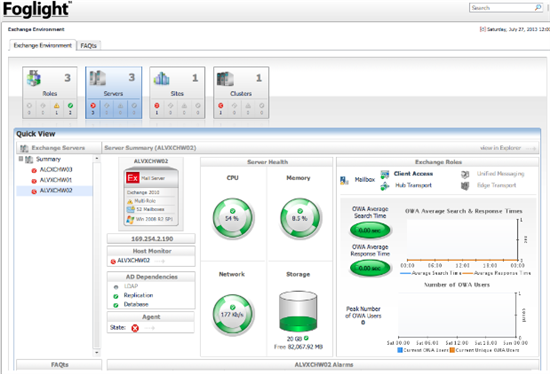 Figure 1: Exchange overview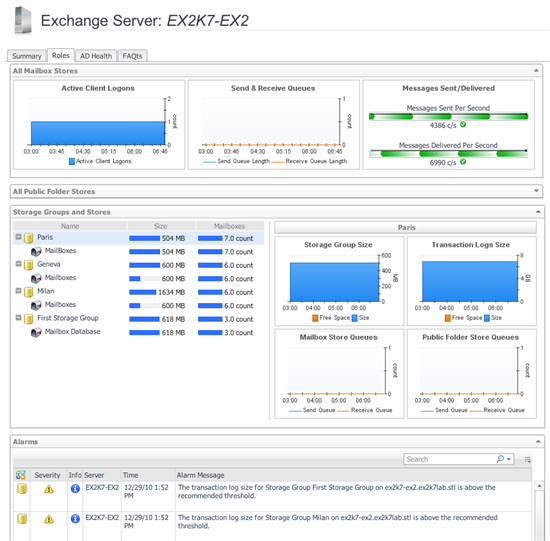 Figure 2: Drill down into Mailboxes
As you can see from the sample dashboards they provide an overview of Roles, Servers and Sites (Figure 1).
You can drill down from the top level view into specific details such as Storage Groups and Transaction Logs (Figure 2), notice the alarms both detected and diagnosed that the transaction logs are above the recommended threshold. Keeping you out of trouble!
It provides realtime and historical data and of course predefined alarms. Supported Exchange servers are 2007-2010 (2013 supported shortly) and they can run on virtual or physical hardware.
To learn more about Exchange monitoring: https://www.quest.com/products/foglight-for-exchange/