Hi, I am Dan Barker, the product manager for Dell Web Parts for SharePoint. This is my fist blog post on the SharePoint for All blog roll, but it certainly won't be my last. I am so excited about blogging here that I plan on blogging at least five times a day seven days a week going forward. Well, that's overly ambitious, but I do plan on doing a lot more blogging here about SharePoint, Dell Web Parts for SharePoint and other various technologies.
On Saturday, September 22nd, I attended and spoke at my first SharePoint Saturday Redmond. It was a fantastic experience speaking and meeting all of the wonderful attendees who came to spend their Saturday learning and discussing all things SharePoint. It was also great meeting some of the other speakers from different parts of the country. Even though I was a speaker at the event, I made my way into a few of the other sessions myself to learn and grow. One thing you can count on with SharePoint is there is always something new to learn. I have been using SharePoint since the product was introduced as project "Tahoe" in 2001. Heck, I can remember when the content management functions were in a separate product and external to SharePoint and boy have things changed since then. Compared to the initial release versions, SharePoint can just about make you a delicious sandwich. Ok, that's an obnoxious, stretch but the product really has come a long way.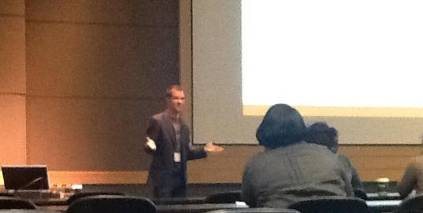 The weekend started off on Friday at the speaker's dinner at Maggiano's in Little Italy in downtown Bellevue. The speaker dinner gives those presenting a chance to talk shop. This particular Saturday there was a lot of talk about the upcoming release of SharePoint 2013 and related technologies such as SQL server 2012, Office 2013, and Windows 8. I definitely love talking about bleeding edge technologies, and a lot of us were discussing various topics such as new social media capabilities, the SharePoint app marketplace, and mobile/tablet connectivity. We even got jackets for speaking with the Puget Sound SharePoint user group logo on the sleeve (shown in the image below). This will definitely come in handy once the weather turns here in Seattle, although I've been lucky enough to enjoy the 76 straight of sunny weather here (a record for the area). I could be wrong here, but maybe Seattle is secretly sunny all the time? I can dream right? Ok, I guess I will eventually end up putting the jacket to good use.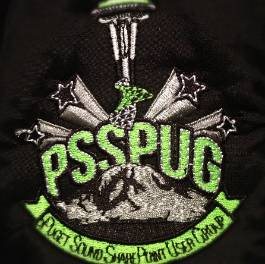 If you haven't attended a SharePoint Saturday, I would highly suggest it. SharePoint Saturday is an educational, informative, and lively day filled with sessions from respected SharePoint professionals, MVPs, and vendors covering a wide variety of SharePoint-orientated topics. SharePoint Saturday is free, open to the public, and is your local chance to immerse yourself in SharePoint!
Here is a link to more information about SharePoint Saturday's in your area.
http://www.sharepointsaturday.org/webdev/how-to-install-wordpress-locally-on-your-mac/
In my next post I will talk more about my session at SharePoint Saturday titled "Holy Cow – Someone Put Me In Charge of SharePoint".