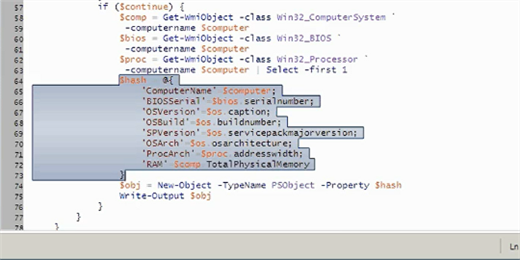 How often have you needed to quickly find the OS version, service pack version, BIOS serial number, processor architecture, or other piece of information for a server? Some of that information can be retrieved from Active Directory, but much of it requires a quick trip to the server unless you have a tool like System Center Configuration Manager. With a bit of work in Windows PowerShell, however, you can quickly retrieve this information yourself. This trick only requires that PowerShell be installed on your local computer; you don't need it on the server. The server simply needs to have Windows Management Instrumentation (WMI, installed and running by default) and must allow traffic to the WMI service.
Windows PowerShell is increasingly becoming a valid way of writing little do-it-yourself tools, like the one provided in the accompanying article and demonstrated in the accompanying video. For more complex tools, of course, it still may be more efficient to acquire something from an independent software vendor, but quick one-off solutions like this one are well within the reach of write-it-yourself.
After reading the article, Building a Quick PowerShell Info-Checking Tool for Servers, or watching the video, Customizing a PowerShell Script that Retrieves WMI Info, does this tool give you any ideas? What other sorts of information would you want such a tool to collect?