High Availability (HA) for Microsoft Exchange was once considered a luxury for many organizations. That is, until the introduction of Exchange 2010 with Database Availability Groups (DAG). DAG provides database-level protection from local outages. Databases are replicated across multiple mailbox servers (up to 16)—from the active node to passive nodes. This approach simplifies providing HA and DR for Exchange deployments. But most agree, DAG doesn't replace backup and recovery.
A dedicated backup and recovery application is still necessary to complement DAG. You need backup for longer-term retention and additional protection against data corruption.
This week, we released NetVault Backup Plug-in for Exchange 4.6, which offers enhanced support for DAG. NetVault Backup users now can choose how they would like to back up their DAG environment. They can either back up all active databases, or back up the copies of the database first (whenever possible).
If the user chooses to back up all active databases, the backup command is sent to each node in the DAG. NetVault Backup simply runs backups on each active database on the node. That way, the most recent copy of each database will always be backed up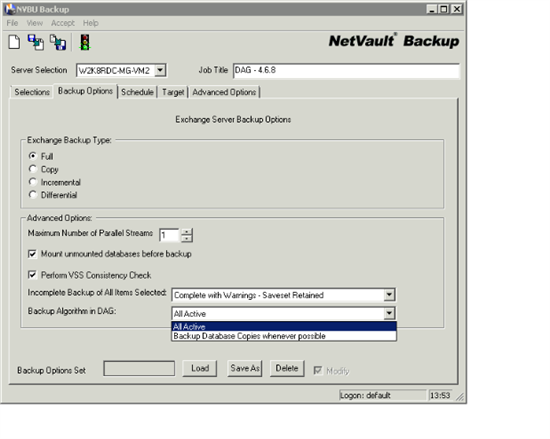 If the user chooses to back up database copies, NetVault Backup will attempt to back up the copies of a database first—before it backs up the active database. You may be asking yourself, "How does NetVault know which database is active and which ones are copies?" Well, NetVault looks at all databases in the DAG and where they reside, sorts them 'Copies first' according to Activation Preference Number and then places the active copy at the end of the database list. NetVault goes through each database list until it finds a node that is up and running and backs up the database there. This allows NetVault to back up database copies instead of active databases, except in the case where only the active database is available (other nodes are offline).
Try it out yourself today. NetVault Backup, including the latest Exchange plug-in, is available as a 30-day Free Trial.