Finally, some good news for the overworked Active Directory admin:
Active Administrator 7.0 now includes even more productivity-boosting capabilities!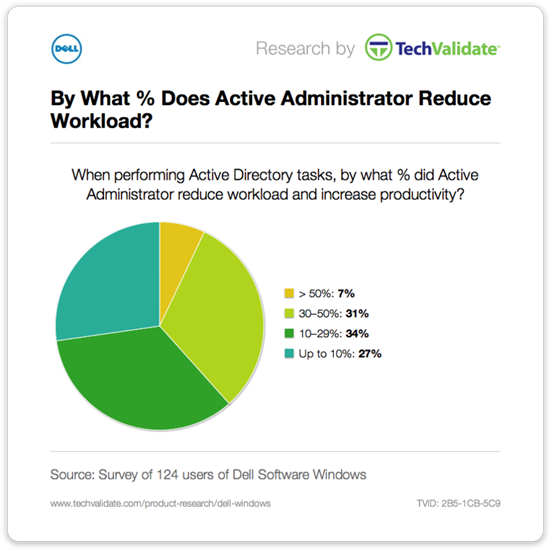 Did you know that 72% of Active Administrator 6.x users report that this powerful solution increased their productivity by more than 10%?
How? Active Administrator simplies AD management by providing a one-stop, single console for all day-to-day AD administration.
With version 7.0, we've included even more performance-enhancing capabilities, including:
Active Tiles that boost productivity with real-time, at-a-glance tiles that present users with status rollups of each sub-section of AD management, such as security, delegation, performance, Group Policy, etc.
Quick Tasks that help AD administrators quickly execute six of their most common tasks: Initiate a search for an Active Directory object; perform four different operations against user accounts (enable/disable, reset password, unlock, or add/remove from a group); or reset a computer account
AD Search that performs a universal search to easily and efficiently locate any user, group, contact, computer, or Organizational Unit in a selected domain
Dashboard Charts that provide a dashboard view, including a count of domain computers, users, and groups of various scopes. Also includes an expanded range of charts for audited events and notification alerts to help administrators identify trends that might otherwise go unnoticed
Active Template Delegation Wizard that enables administrators to choose multiple delegation paths in a single path, and set delegations to both apply and expire automatically at a set date
DC Management Module that enables IT to select the specific domain controller through which all operations will be performed. Also manages domain services, and monitors its status, performance metrics, and event logs to identify potential issues or trends before they become critical. Enables IT to easily add or remove domain controllers, switch to another domain controller, connect through remote desktop, or reboot the domain controller.
Performance improvements by caching Active Directory object information in memory for 30 minutes.
For a complete list of new features and user interface enhancements, see the attached What's New in Active Administrator 7.0 document.