The development team is really chugging along now with the AttachThis Beta and we are pleased to make available the second release of the beta build as we move towards a release later this year!
There are two big new features in this release, Smart Tags and the Administration Console.
You can download this new build HERE
Uninstall and re-install this version. It will maintain any settings you currently have.
Smart Tags
First off is the introduction of smart tags for URLs. What is a smart tag, while it's the opposite of a URL.
URLs are probably the most confusing part of SharePoint. When you need to figure out where to put content it can take some time to remember what the starting point is, usually something like https://Server183/Sites/Site874 then you have to maybe go down a few more sites until you find the library or folder you are looking for. When you need to quickly find a URL for AttachThis, well we know it can be frustrating.
And usually they all look the same after a while, for Example these two URLs are almost exactly the same but point to very different Document Libraries
https://Server183/Sites/Site874/Shared&Documents1
https://Server183/Sites/Site874/Shared&Documents2
To set a Smart Tag click on the settings cog when the dialog box pops up. Once you save a Smart Tag URL it is saved and you can use it later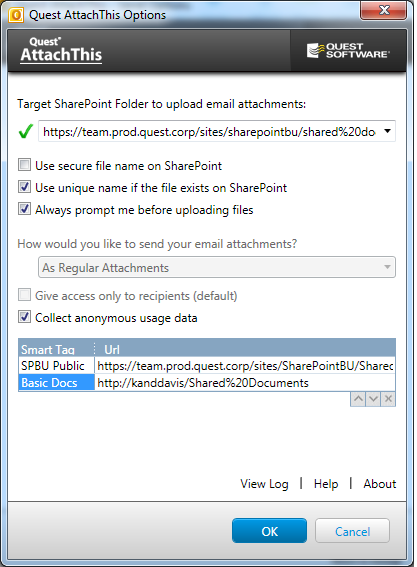 First put in a Smart Tag that will make sense to you. Something that will call out what the document library or folder should be used for. Then insert the URL from your browser. The dialog will attempt to validate it and if it works you can click ok.
Next time the AttachThis dialog pops up you will see the Smart Tags as options, other URLs that you may have used are also maintained.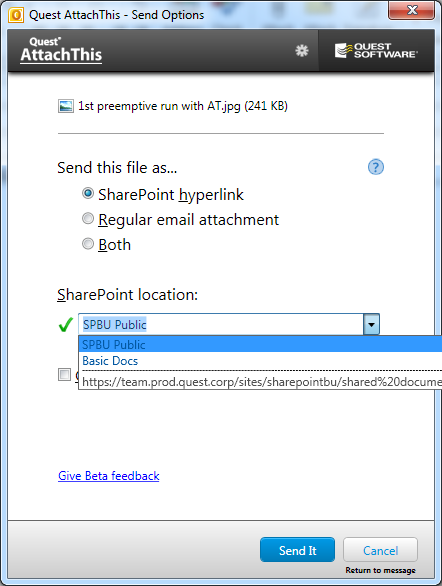 Select the proper Smart Tag and it figures out the URL...as we like to say it's Simple, Focused and Fast!
Administration Console
The Administration Console is another significant feature added in this release. The Administration Console is meant to give Administrators greater control over AttachThis in an Enterprise environment. At this point the feature is for experienced Administrators only as the install and use is a bit technical at the moment. This will be improved as we move towards release.
The Administration Console is installed into and is configured through the Central Administration site for a given SharePoint Farm within your AD forest. It only needs to be installed on one farm within your Forest, even if you have multiple farms.
To get started find and click on the administration console installer (quest.attachthis.AdminService.wsp)
This part at least is fairly automated. Follow the instructions. The installer checks for any dependencies then finishes the install.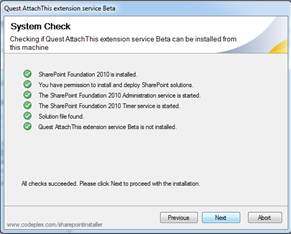 You do have to do some registry additions as per below:
Admin console url placed in registry : HKLM:Software\Quest Software\AttachThis
Key name: AdminServiceUrl
Value type: String
CA url example: http://server:123456

Next step is to activate the Service at http://kanddavis:27342/_layouts/Managefeatures.aspx (replace my address with your CA address)

Finally (Phew!) the console will be available in Central Administrator.
Here you can see stats of the known AttachThis installs and you can create and push down global Smart Tags to these clients. This part is a bit immature at the moment, so give us feedback on what you really find confusing!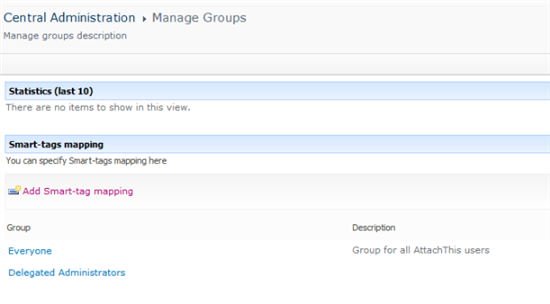 To create a Smart Tag select a valid AD group and assign the Smart Tag to it.
Here is the Group policy administration template to connect to clients:
CLASS MACHINE
CATEGORY !!NAME
KEYNAME "Software\Quest Software\AttachThis"
POLICY !!POLICYNAME
PART !!PARTNAME EDITTEXT
VALUENAME AdminServiceUrl
END PART
END POLICY
END CATEGORY
[strings]
NAME="Quest AttachThis"
POLICYNAME="Change Admin console server"
PARTNAME="AdminConsloe server url"