Quest is excited to announce the upcoming release our first enterprise social network migration product.
In recent years, organizations have rapidly adopted enterprise social networks (ESNs) like Jive Software, Microsoft Yammer and Salesforce Chatter. The benefits are clear — ESNs can improve communication, collaboration, productivity and overall employee engagement. But in many organizations, ESN adoption has not been centrally planned and managed, so they find themselves with multiple separate ESNs that all offer similar functionality.
In fact, a Dimensional Research study sponsored by Dell surveying 194 organizations using ESN tools found that two-thirds have more than one ESN — even though most ESNs provide very similar functionality.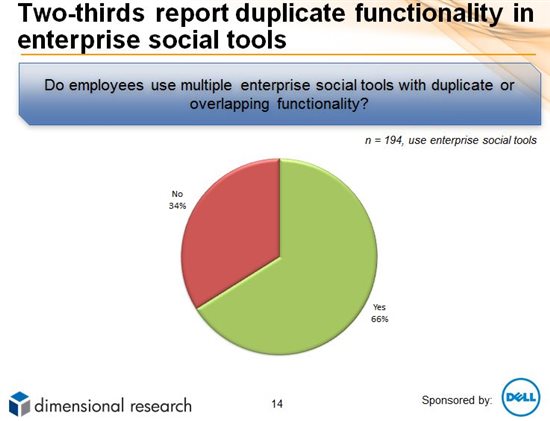 This creates silos of content and collaboration that frustrate users and increase support costs, eroding the value of the social network investment. Therefore, many organizations would like to consolidate content and standardize on a unified social platform. At the same time, they are wary of migration projects, which they know can be risky, complex and expensive. To mitigate those concerns and ensure a successful migration, you need a solid migration strategy and the right tools.
That's where our new tool will come in. The Dell enterprise social migration solution, which will be released to market in time for Microsoft Ignite, will enable you to consolidate your Jive social content into Yammer. The solution will also include powerful discovery features so you can identify the content you want to move before you begin the consolidation project.
If you'd like to sign up for our exclusive mailing list and be notified when the product is released, click on Learn More below.