We're excited to announce today the release of Migrator for Notes to SharePoint 6.5. This release includes a number of features that were requested by customers and partners. We outline the new features below, but you can learn much more detail in the Migrator for Notes to SharePoint 6.5: What's New document.
Migrating a Notes form to Nintex form --Transform Notes forms to Nintex forms in SharePoint and Office 365 without the need for scarce and expensive development resources.
Analysis of Lotus Notes code--rapidly search for and report on code terms within Notes application databases to help better understand the application complexity.
Transformation of checkboxes on Notes documents to PDF documents
Support Windows Metafile Images
Prerequisite Checker--An improved installation experience to help get you started.
Folder Incrementer-- Create new folders automatically during the migration when the maximum number of folder items is reached
.MSG Export Field Mapping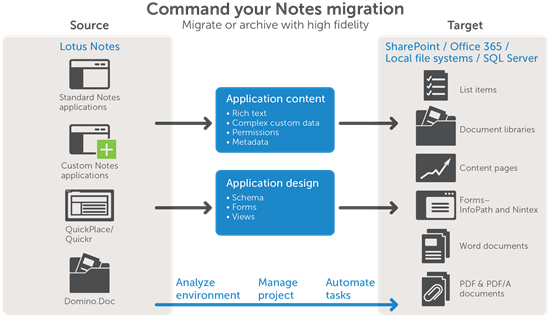 Try Migrator for Notes to SharePoint in Your Environment
Limited-time offer: We've extended the free trial version of Migrator for Notes to SharePoint to now include five databases for migration to ensure a successful evaluation in your environment. From now until June 30, 2015, you can use the free trial version to migrate up to five application databases in your environment. As always, the free trial also contains complete discovery and analysis functionality enabling you to perform assessments of your existing Notes/Domino environments - absolutely free. Database migrations are limited to non-production use.