Growing a business requires growing your team, and managing growth requires enabling business processes and sharing data across applications. Human Capital Management (HCM) encompasses recruiting, core human resources functions and talent management capabilities that need access to data throughout the organization.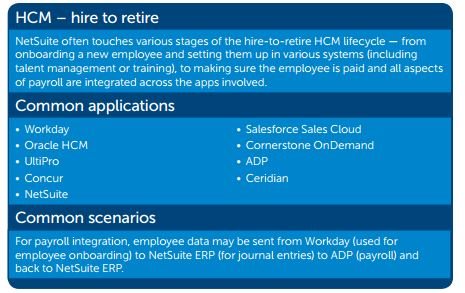 NetSuite often touches various stages of the hire-to-retire HCM lifecycle — from onboarding a new employee and setting them up in various systems (including talent management or training), to making sure the employee is paid and all aspects of payroll are integrated across the apps involved. But that still leaves an organization with a lot of applications to manage and update, and whole lot of headaches if the data is out of compliance. That's where integration platform as a service (iPaaS) can help.
Take it from companies like yours who have successfully automated HCM with NetSuite and iPaaS - download a copy of the new NetSuite Integration Guidebook. This free eBook not only outlines simple ways in which HCM can be automated with iPaaS, but it also includes information on other business processes NetSuite customers can automate similarly As a bonus, you'll also receive several customer success stories, each of which showcases a NetSuite integration project.
Boomi NetSuite Integration Guidebook — Get yours now!
In the guidebook you'll also have access to:
Common NetSuite business processes, like lead-to-cash and EDI, that also benefit from iPaaS
Using iPaaS to address integration challenges
A checklist for successfully implementing an integration project
A checklist for evaluating an iPaaS vendor
Once you've read the NetSuite Integration Guidebook let us know what you think of it in the comments below.