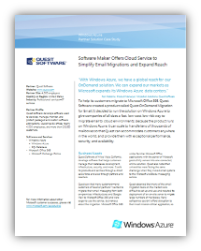 Several months ago we released a new product called OnDemand Migration for Email to help our customers quickly and securely migrate email, contacts, folders, and calendar data to Microsoft's new Office 365 platform. The best part about this new migration solution is that it is a SaaS offering and does not require organizations to install or maintain any software for the move. OnDemand Migration for Email is built on Microsoft's cloud service deployment, hosting, and management environment called Windows Azure.
When migrating organizations to Microsoft Office 365, can you think of a better way to get there than to use a migration product that is built on Microsoft's own cloud platform? Nope, I can't either!
Microsoft recently completed a case study with Quest that details how we are leveraging Windows Azure and how our OnDemand Migration for Email product helps simplify email migrations to Office 365. The case study discusses our worldwide availability and the fact that our solution is scalable to accommodate any number of mailboxes with quick, low-cost, highly secure migration to Office 365 and Live@edu.
If you are interested in learning more, I invite you to click here to read the Microsoft Partner Case Study or click here to learn more about using OnDemand Migration for Email for your upcoming migration project.