Attention SharePoint for All Community!
On the heels of the public release of Quest Web Parts for SharePoint 5.6, I'm happy to announce that Quest Web Parts' best friend, Deployment Manager for SharePoint 2.0, is now available for download: https://www.quest.com/.
What's new in Deployment Manager 2.0?
By far the most exciting new feature in this release is Solution Manager, which is a new tool within Deployment Manager that (just as its name suggests) helps you deploy and manage SharePoint solutions packages (WSPs) in multi-tiered SharePoint 2010 environments.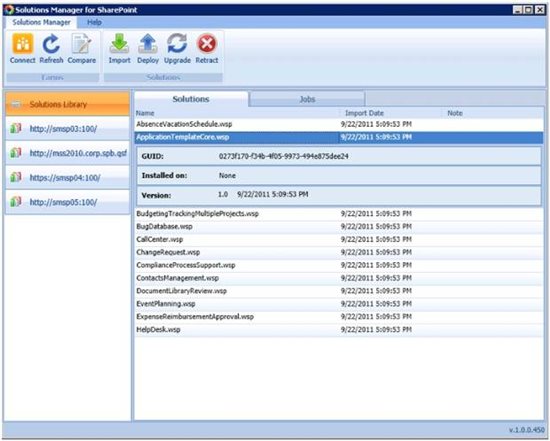 Here is what you can do with Solutions Manager:
View solutions installed across multiple farms from a single dashboard
Get list of farms/web applications where each solution is deployed
Track deployment status and version history
Identify solutions that were not approved for deployment
Detect farms with old versions or unknown solutions
Deploy, upgrade and retract solutions remotely
Execute immediately or schedule
Keep a historical trail of all operations
Note for existing users: Solutions Manager is a separate install that ships with Deployment Manager. However it is not included with your automatic web update, which upgrades your instance of Deployment Manager to 2.0. Existing customers will need to install it using its own installer from the Deployment Manager 2.0 release package that you can download here: https://www.quest.com/.
In addition to Solutions Manager, Deployment Manager 2.0 rolls up all the core application updates since the 1.0 release back in February.
We have also changed the way Deployment Manager installs in the new version. Unlike the original web installer which required an active Internet connection, Deployment Manager 2.0 comes with a full offline installer that can be installed on disconnected/isolated systems and only takes a couple of minutes to complete. You can check out the new documentation for specific instructions: https://www.quest.com/.
I've attached a "What's New" document to this blog post if you want to read more about Deployment Manager for SharePoint 2.0.
Thanks!
- Alexander Kirillov, Product Manager