Part of the Lessons Learned : Successful Virtualization to Private Cloud webcast series, please join us for an educational webcast which shares real-life customer experiences as they take the journey from physical to virtual infrastructures to private cloud deployment.
The first of the series, Top Challenges CIOs Face When Managing Virtual and Cloud Infrastructures is scheduled will be broadcast live on Thursday, February 17 at 1 p.m. EST. This informative webcast will feature Forrester analyst Glenn O'Donnell and Carl Eberling, Quest Software vice-president, discussing the common pitfalls of virtualization projects and deploying cloud solutions. This event will also share successful strategies used by Quest customers to virtualize key applications, as well as implement private cloud solutions to automate their data centers.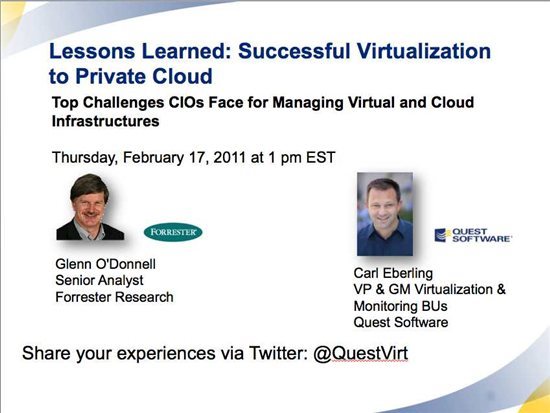 Feel free to comment to this blog by sharing your own experiences and be sure to register for the event now!